Pole Building Roof System – Dressed Up!!
For years I sat in church on Sunday mornings with my children and admired the magnificent trusses which supported the roof. Built from glulams with the joints connected with bolted steel brackets – they were nothing short of fabulous. To me (coming from a background of construction and prefabricated roof truss manufacturing), I believe I had a special attraction to them more than just the average parishioner.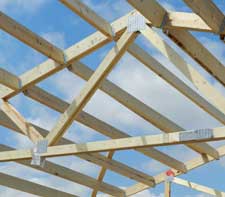 As pole buildings have gravitated from the farms of the 1950's into the mainstream of popular construction, their owners have been looking for more appeal than what was offered by the average tractor shed.
The aesthetics of massive exposed trusses somehow is appealing to many of us. By using glulaminated timbers to fabricate them, the members have very few flaws and can be readily finished to highlight the natural beauty of the wood.
By using prefabricated metal plate connected wood scissors trusses, the structure of the roof surface can be readily supported. These trusses may have conventional "heels" (the point where the top and bottom chords meet) and an exterior slope which is greater than the interior slope. By use of a raised heel, the bottom chord slope can be increased to give a more dramatic look, as well as creating a deeper insulation cavity.
Ceiling finishes are then often tongue and groove two or three inch thick material. Depending upon the spacing of the trusses, often no other bottom chord framing is required for their support.
Non-load carrying glulam trusses can be placed directly below the decking to give the impressive look, without sacrificing any of the "pretty" parts of the truss – as this work is being done by the hidden trusses above the decking.
Whether office space, a church, great room or man cave – if you want to "knock the socks" off your guests or clients, this one offers some distinct possibilities