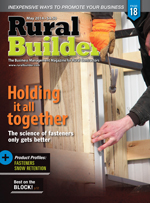 For those of us in the post frame (pole building) industry, Rural Builder magazine is a must read. Published seven times a year – I always await receiving my Rural Builder in the mail with a degree of anticipation and excitement. I have probably not missed reading (and rereading) an issue in three decades.
Until 2002, Rural Builder, was published by Krause Publications of Iola, Wisconsin.
My late father was an avid coin collector and would have greatly appreciated what Krause is best known for its – Standard Catalog of World Coins, a series of numismatic catalogs commonly referred to as Krause-Mishler catalogs. They provide information, pricing, and Krause-Mishler (KM) numbers referring to coin rarity and value. Krause-Mishler releases a yearly catalogue of world coins with values and KM numbers. Krause-Mishler numbers are the most common way of assigning values to coins.
In 2002 Krause Publications was acquired by F+W Media, Inc., a New York City media and publishing company founded in 1913.
Recently I was asked to be a contributing writer for Rural Builder and my first article can be found here:
https://www.constructionmagnet.com/rural-builder/behind-the-hammer-with-mike-momb-common-post-frame-failures-and-how-to-prevent-tem
Interestingly enough, the article has since been picked up and reprinted in Structural Building Components magazine:
https://www.sbcmag.info/news/2014/may/insurance-company-eyes-disproportionately-new-post-frame-construction-collapses
I've written for Structural Building Components magazine previously (in May 2011):
https://www.hansenpolebuildings.com/it-isnt-your-grandpas-barn.htm
Free subscriptions to Rural Builder magazine are available to qualified individuals:
https://secure.palmcoastd.com/pcd/eSv?iMagId=07621&i4Ky=IA01
Look for future articles written by me in Rural Builder. I hope my loyal blog article readers will enjoy reading them, as much as I enjoy writing them.