Where Pre-painted Steel Coil Comes From
At the National Frame Building Association (NFBA) 2014 Frame Building Expo were several exhibitors who paint steel coil. These coils are used by steel roll formers to create siding and roofing panels, as well as trims for pole buildings.
Among these companies were AkzoNobel, Dura Coat Products, Precoat Metals, and Valspar.
AkzoNobel makes a complete line of high performance coil coatings. For the highest level of performance their Trinar has a 70 percent PVDF (Polyvinylidene fluoride) resin system and all performance characteristics demanded for high profile projects. AkzoNobel also manufactures the benchmark of SMP (Silicone-modified polyester), Ceram-A-Star 1050. This proprietary resin system, combined with the highest quality pigments, give it unbeatable color retention and superior chalk and fade resistance. Both Trinar and Ceram-A-Star 1050 are available in Cool Chemistry formulations which help make projects more energy efficient and sustainable.
Dura Coat specializes in high-quality, high-performance coil coatings for commercial, farm and residential applications. Durapon 70 is a PVDF formulation equal to or better than any coating on the market. With an exceptional resistance to installation scratching, scuffing and transit abrasion, it is also flexible enough to handle demanding post-forming. The unique chemistry of Durapon 70 reduces the carbon footprint which makes a greener product. Ceranamel XT-40 SMP is a proprietary polymer formulation which is harder, more flexible and significantly more abrasion and stain-resistant than conventional coatings. Ceramic pigmentation prompted the name, Ceranamel. It has excellent flexibility, weathering and fade resistance properties. Both coatings are energy efficient and meet Energy Star standards.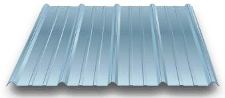 I've actually toured the Precoat Metals plant near St. Louis, Missouri. The entire process of applying paint to bare galvanized and galvalume steel coil is nothing short of fascinating. Watch future editions of my blog for more about Precoat's processes.
Valspar Corporation is an international manufacturer of paint and coatings based in Minneapolis. With nearly 10,000 employees in 25 countries it is the world's sixth largest paint and coating corporation. Those who frequent Lowes® have probably seen the Valspar name on the shelves of the paint aisle.
Valspar offers a full range of high-performance architectural coatings in PVDF, SMP and polyester formulas. These superior coatings are available in a full palette of colors and surface textures to meet the most demanding environmental conditions and designs. Valspar's flagship Fluropan coatings containing 70 percent PVDF resins offer premium protection against harmful UV rays, chalk, fade and chemical degradation. Their WeatherXL is a new silicone polyester coating which offers enhanced protection against weathering and superior scratch resistance.
These steel coil coaters are producing the high quality painted steel which is utilized by the best of the steel roll forming companies in America.  Stay tuned for more on the Precoat process!