Brick Ledge on a Post Frame (Pole) Building
Whilst it would not be my personal preference for finish on a post frame building, there are instances when either aesthetics (trying to match other existing structures), local Planning Departments or HOAs (Home Owner Associations) mandate use of brick or stone exteriors. Whether for a wainscot or covering an entire wall (or walls) if full thickness stone or brick becomes a solution, it must be adequately structurally supported by a footing.
I truly had not given this subject much thought, until reader JASON in COLLEGE STATION wrote:
"Hello, thanks in advance for sharing some of your knowledge and experience with pole barns.

I have been looking at the construction details on your website and have a question about the bottom "skirt board". Could this detail be designed so that the board does not show below the metal but the metal terminates on a concrete slab that extends a little? I am guessing this is how someone would do it if they needed a brick ledge. If so what is the best way to achieve this?

Thanks again for your advice."
Jason's question actually read like a multiple dilemma.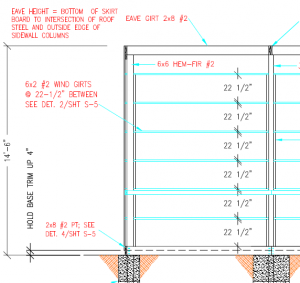 First, a question is hiding a building exterior pressure preservative treated skirt board (aka splash plank). Simple answer is yes, building is already designed so this can be done. Skirt board should be placed per engineer sealed building plans, showing drip edged base trim bottom four inches above grade. This allows for a nominal four inch thick (finished thickness 3-1/2") sidewalk, driveway, landing or other concreted areas to be poured against exterior of splash plank, coming in ½ inch below bottom of drip edge. Any such pours should be along a grade sloping sufficiently away from building a minimum slope of 2%, to keep water from pooling against building.
For a nominal fee a RDP (Registered Design Professional – engineer or architect) can design an appropriate and structurally adequate support, varying in design due to individual building sites' frost depths. Using a frost-protected shallow foundation in frost prone regions (read more here: https://www.hansenpolebuildings.com/2017/09/post-frame-frost-walls/), could possibly be part of a design solution, with some sort grade beam, whether it be poured reinforced concrete or properly pressure treated wood. Either will need to be engineered appropriately based upon material weight and strength of  soil to give continuous support.

I'd personally consider either thin brick, or a cultured stone veneer. Ultimately it will probably be least expensive design solution providing and meeting needed objectives. Framing, including columns and their embedment, will need to be engineered to support added dead loads from thin brick (depending upon pattern and thickness thin brick can weigh nearly seven pounds per square foot). Structural members need to be engineered to have limited deflection. Bookshelf girts might well be part of an engineered design solution: https://www.hansenpolebuildings.com/2011/09/commercial-girts-what-are-they/.