Author's Note: This is part 3 of a series of blogs written from a 6500+ motorcycle trip from WA to Ohio and back.  See Blog from Oct. 15th for the beginning…and hang on for the ride!
The Browns Valley to Browns Valley part of my "Zen" ride (yes I made a loop) involved 9 days on the bike (I took the weekend off in the middle to enjoy Holland, Michigan) and 4844 road miles. Even averaging over 500 miles per day, I still had energy left at night to do some of my favorite things – like web surfing.
Since I was covering turf in the Midwest, I wanted to see who was out there building post frame buildings. Doing the infamous "Google Search" for Wisconsin pole builders, I stumbled upon one who proclaims to be the "Wisconsin, Illinois, Minnesota, and Iowa pole barn and pole building specialists".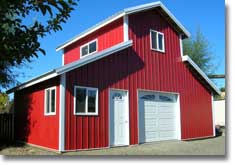 Dead center at the top of their home page is a building which particularly caught my eye…a cute red "monitor" barn, with white trims, two windows, and an overhead and entry door with radius topped windows. This particular building caught my eye because I happen to know it was built in Oregon, by Wallace Brothers Construction.  Why do I know this? Because it is a Hansen Pole Building kit!
Personally, I have no issues with people using photos of our buildings on their websites, as long as they give us credit for them.
For those who are shopping for new pole buildings – it makes it tough when people are not honest and steal photos of other people's buildings to use as their own.
When I was a post frame building contractor (hop in the "Way Back Machine" to the 1990's), we had a copyrighted table top catalog/brochure done – this puppy was seriously nice, and won awards for its graphics. In the center of it, was a foldout of a building cutaway (you can find an updated version of it in the Hansen Pole Buildings Product Guide by ordering one for free at https://www.hansenpolebuildings.com/product-guide.php ). Well….one of our competitors "borrowed" the fold out and printed up 10,000 brochures of their own using it! As it was a copyright violation, they ended up having to burn all of them.
A few years later, another pole builder tried to use the same drawing on their website….again, no problem, just give credit where credit is due. They opted to remove it.
The bottom line caution to pole building shoppers – those lovely photos on the website you are checking out, may very well not be those of the company who has the website.