"Here at xxxxxx (pole building company) we represent the top quality building companies in the business and build every building with pride. Our trusses are set on 4' or 5′ centers, unlike many post-frame builders that set their trusses on 8′ or 10′ centers in order to cut costs. The trusses are an important part of a building's integrity. The more trusses you have, the better the structural integrity. Our trusses are engineered with a 25-lb/psf-snow load rating and a 125 mph wind load rating standard. They are built to withstand the extreme weather conditions that you may encounter in the Mid-West. Several other companies will either build their trusses on the job site or they send a standard factory built truss that was never engineered properly or just to I.B.C. Code 2006 which is only 17.1 lb/psf snow load rating and 90 mph wind load. We also run our end posts all the way up to the top of the building rake, rather than stopping at the ceiling joists and using a "dummy" truss. This gives our buildings greater structural integrity, as well as a higher wind load resistance. Add in our secondary framing known as rat run this gives you a superior quality building. We also use only Prime 40yr Rated Galvalume Paint American Made Metal for our exterior as well as American Made Screws not cheaper foreign brands or nails. We "NEVER" use sheet metal known as "seconds", which typically does not carry a manufacturer's warranty. We use solid posts that are fully treated to a .60 value or in laymen's terms 60%, unlike other companies that will only use treated .40 lumber in the ground and untreated lumber above the ground. These posts typically consist of 2x6s that are glued or nailed together; therefore the strength is only as good as the glue or the nails. We set our posts 3′ (minimum) into the ground for a more solid footing and to ensure that the post is below the frost line."
Now as an average consumer, and potential new post frame building owner, all of this might sound pretty darn impressive.
My mission – to make every potential pole building shopper a knowledgeable shopper. Let's get past the "top quality" and "pride" and deal with the facts. Please read on……
Truss spacing is not done with the idea of cutting costs. There are many pole building companies, as well as registered design professionals (engineers and architects), who are of the opinion post frame buildings are structurally more sound when the trusses are directly aligned with the building columns below them, rather than placing the trusses at closer spacings which dictate the need for structural headers between the columns – more pieces, more connections, more possibility of a failure.
To learn lots about truss spacing, loading and design, read my article in Structural Building Components magazine: https://www.sbcmag.info/sites/sbcmag.info/files/Archive/2011/may/1105_barn.pdf
The quantity of trusses in a building has nothing to do with a building's structural integrity. A building with a large number of under designed trusses is not going to be stronger than a building with fewer properly designed trusses.
While they may (and I use "may" liberally) be ordering trusses designed for a 125 mph (miles per hour) wind load, unless every other component and connection in the building is being designed to this same standard, it is merely a waste of money.
Actually, every version of the IBC (International Building Code) from 2000 up to the most recent version in 2012 allows for trusses to be Code conforming for top chord loads as low as 12 psf (pounds per square foot) provided the requirements for design ground snow load (Pg) is low enough, and the area supported by the trusses is great enough.
A truss is a truss, in my nearly four decades of prefabricated roof truss experience (owned and manufactured trusses for many years), I have never heard of a "dummy" truss. Need a term, make it up?
"Rat runs" are merely a term for the lateral bracing of the roof trusses which is required by the Building Designer to adequately brace the trusses. They are not creating a "superior quality building", as this bracing is required in order to be Code conforming.
The paint used on colored steel is not Galvalume. Galvalume is the protective coating used on the bare base steel to keep it from rusting.
Read more about galvalume here: https://www.hansenpolebuildings.com/blog/2013/04/galvalume/
Pressure treating is not a "value" nor is it a "percentage". The term .60 refers to the minimum weight of preservative chemicals which are added per cubic foot of lumber. Different types of chemicals require different amounts of chemicals. The important criteria for structural in ground use of columns, is for them to be treated to a UC-4B specification.
"In laymen's terms 60%" just reinforces my belief of this particular company not truly having a grasp of what pressure treating specifications are all about.
Read more about proper pressure treatment of lumber here: https://www.hansenpolebuildings.com/blog/2012/10/pressure-treated-posts-2/
I've written at length about nailed and glued, as well as true glu-laminated columns. Find out more at: https://www.hansenpolebuildings.com/blog/2012/08/nailed-up-glulam-columns/
and
https://www.hansenpolebuildings.com/blog/2013/04/glulam/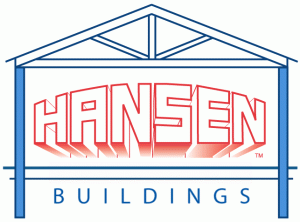 Considering ordering a pole building kit package from anyone other than Hansen Pole Buildings? Or, hiring a contractor to construct any building other than one of ours?
Email me at PoleBarnGuru@HansenPoleBuildings.com with the link to their website as well as with any literature and quotations provided (if they have terms and conditions printed on the back of a sales agreement, make sure to send them as well). I will – at no charge – give you an objective opinion of whether you are getting a great or a not-so-hot deal, as well as pointing out any potential pitfalls I see.  I am not debating any costs at this point…just trying to educate the public. Hopefully I can contribute to you being a well-informed buyer – wherever you choose to purchase a new pole building.