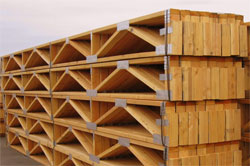 While I have used metal plate connected pre-fabricated wood floor trusses in pole buildings (including one of my own buildings at home), they are not the norm.
In the construction industry, much debate has been ongoing in regards to Section R501.3 of the International Building Code/International Residential Code:
"R501.3 Fire protection of floors. Floor assemblies, not required elsewhere in this code to be fire resistance rated, shall be provided with a ½ inch gypsum wallboard membrane, 5/8 inch wood structural panel membrane, or equivalent on the underside of the floor framing member."
Now there are some Code exceptions to this ruling, one in particular which gets people all worked up:
"4. Wood floor assemblies using dimension lumber or structural composite lumber equal to or greater than 2-inch by 10-inch nominal dimension, or other approved floor assemblies demonstrating equivalent fire performance."
Now why is this even an issue?
Because home builders want to construct houses with unfinished basements, and not have to drywall the ceilings! By using 2×10 or larger floor joists, they can avoid the expense of drywall.
Some Code enforcing jurisdictions have interpreted this as floor trusses are not an equivalent, therefore they should have sheetrock on the underside, where a 2×10 would not.
Fire Resistance Time
All of this concern is due to fire resistance issues.  However test results are available which show a system with 2×10 floor joists spaced 16 inches on center with 23/32" sheathing above will last from 5 ½ to 7 ½ minutes in a fire, while a 12 inch deep floor truss system spaced 24 inches on center will last 10 minutes 12 seconds!
To require the floor truss system to be sheetrocked, gives the 2×10 an unfair competitive advantage, and does not follow with proven test results. If firefighter safety is the key core issue, then having gypsum wallboard on all otherwise unprotected floors would be the technically correct approach.
The only other fair approach is to leave everything as it has been done for years – allowing unprotected floors over basements, which is unpopular with fire fighters.