When All Else Fails
Read the directions.
The Hansen Pole Buildings Productions office had a builder contact them a few months ago, because the endwall steel on the pole building kit package they were constructing was "eight inches too short".
Now the builder DID admit to having framed the building three inches taller then he should have. His reasoning – to compensate for the building having end overhangs. Obviously, this made much more sense to him, than to have followed the building plans and instructions.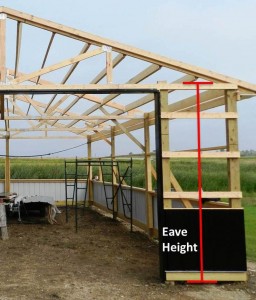 The gal in our office who orders all of our materials astutely asked him to measure the height of the building, from the bottom of the pressure treated splash plank (aka. skirt board), to the top of the eave girt. Of course she knew the answer was supposed to be 14 feet, so she wasn't overly surprised when the builder told her it was 14'9"!!
Just in case anyone is wondering, every Hansen Pole Building comes with two sets of multiple page 24 inch by 36 inch blueprints, specific to the building being constructed. On at least three pages of the building plans, in seven different places is stated, "Eave height = bottom of skirt board to intersection of roof steel and outside edge of sidewall columns".
Even if the building plans were somehow hidden under the back seat of the crew cab, the correct measure of eave height is also stated repeatedly in the Construction Guide provided with the purchase of every post frame building kit. There are diagrams with clear marking of dimensions, along with written encouragement for anyone not understanding eave height, to "call us".
Historically, clients who construct their own buildings rarely make this error – they read the provided documents. Considering hiring a builder? If so, find one who will read and pay attention to the plans and instructions. There are some great ones out there. We have many contractors who purchase pole building kits from us, providing "turn-key" buildings for their clients, and do a wonderful job.  They study the building plans and ask questions before they even move a handful of dirt.  Most of all, hire one who is not afraid to ask questions and clarify things if he's not familiar with constructing a building kit from the chosen vendor. Just like any other do-it-yourself project kit from Sauder to Ikea, they are not "all the same".