We get frequent requests from clients to not only design interior non-structural stud walls, but to also provide the materials for these walls.
In a word – no.
But why not?
From a design standpoint, the most likely walls to be moved around are interior ones. Chances are good where the walls are planned, and where they end up are not going to be the same place.
In our own place in South Dakota, we had everything planned out on paper. As we got the building shell framed up, we started to move around where we thought we wanted walls. We probably adjusted two of the walls half a dozen times before we settled on where they are today.
Luckily, our building was not somewhere building inspections were done, as we would have driven the inspector nuts.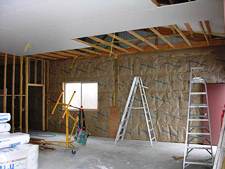 Beyond the design standpoint, is practicality. We deliver all of the lumber for every new pole building kit all at one time.
The building shell gets constructed, the concrete floor gets poured and it is time to start building those interior walls, and oops…..either materials are somehow missing, or they have not been stored properly and are warped, twisted or split. Any of these are cases for unhappiness and disappointment.
And if missing, where is it the materials disappeared to? When it comes to forming for a driveway, walkway, porch, etc., concrete finishers are not proud. They will grab any available piece of lumber and cut it up for forms.
Even if the lumber avoids the saw of the finisher, all too often a few pieces will tend to walk off. The reality is, it just happens.
Outside of framing for the walls, the other request is to provide the gypsum wallboard. Sheetrock happens to be a building material with very little profit margin in it. Often the "big box" stores will offer it at very low prices in order to bring customers into their stores. In most cases, we would need to deliver the drywall at the same time as the lumber package – and it isn't going to store well outside.
The best solution – order materials for interior walls when you are ready to use them.