Dream Duck Hunting Lodge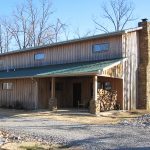 Post Frame Construction lends itself to a myriad of possibilities – only limited by your available space, your budget and your imagination. Now I will confess to not being a hunter. Some of us are hunters. I happen to be none of them, which is a rarity here in South Dakota. Well one of our hunting leaning clients combined space, budget and imagination to create this dream duck hunting lodge.
I could ramble on and on about this particular building – but if a picture is worth a thousand words, a video is worth 100,000.
For your viewing pleasure: https://www.youtube.com/watch?v=bF8lkgpvP9Y
Planning a new building of 3 stories or less and a wall height 40 feet or less? If so, then post frame construction is most likely to be your most versatile and cost effective design solution.