Long time readers know I learn brand new things every single day. Here is today's learning experience for me.

Client JASON in LAWLER wrote to Hansen Pole Buildings' Designer Mason: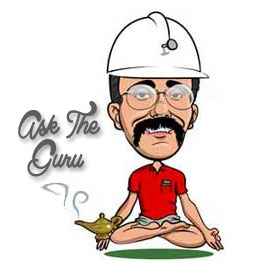 "Mason the project number that I was looking at is 20-1006F the only thing is that I want a lean to on both sides and one walk in door under one side or the other under the lean to 6 windows 2 on each side and 2 on back wall then I want a 16 x30 sliding door and the building will be sitting on a lime screen floor."

Neither Mason, nor I, had ever heard of a lime screen floor. We both even Googled it, to no avail. It turns out our client actually meant 'lime screed' aka a limecrete floor.

Limcrete appears to be a fairly popular design solution in the United Kingdom. It is a combination of natural hydraulic lime and lightweight aggregate or sand and can be used as an alternative to concrete. This creates a breathable floor slab with a certain amount of flex. No cement or admixtures should be used in limecrete, as it would negate breathability.

Limecrete floors combine traditional wisdom with modern technology. Limecrete breathes with traditional building materials, respecting the building's original fabric, and is used without a damp proof membrane. Supposedly the insulation layer beneath prevents moisture ingress while allowing damp to escape and also enables building to be heated effectively.

Limecrete is breathable, behaving in a similar way to other natural building materials such as timber, straw and earth. Water vapor can escape through limecrete. With waterproof floors and breathable walls water vapor tends to travel up walls, creating potential damage.

A system designed and tested by Ty-Mawr Lime uses recycled foam glass as an insulating and anti-capillary layer. An added benefit is this is a recycled product rather than a quarried material, further improving limecrete's ecological credentials. If limecrete is laid onto a normal compacted sub base, water may be sucked into the slab by capillary action creating dampness problems. Lightweight crushed pumice is used as aggregate for an even better insulation value, especially important is saving energy and money when underfloor heating is installed.
To ensure consistent quality, limecrete is best batched onsite with a volumetric mixer capable of measuring lime (NHL5), aggregate and water by volume, rather than weight. When trying to mix limecrete in a conventional drum mixer, ingredients tend to ball together. It is tempting to add more water to loosen mix, however this substantially weakens limecrete. Fiberglass rebars should be used, rather than steel, due to concerns of possible corrosion in a breathable floor.

For limecrete to gain strength quicker, fibermesh may be added. Testing results indicate a roughly 30% strength increase, without compromising breathability.

Limecrete strength can be affected by temperatures during the curing process. To successfully place limecrete in winter months, water can be heated prior to adding to the mixture.

Depending upon lime type and content, whether fibermesh is used and ambient temperatures set time will vary. It is possible to move over a limecrete floor using boards after a few days. Slab will continue to strengthen for several months. It is possible to lay a floor finish such as stone or tile after 3-4 weeks, however products such as engineered wood will require moisture content to be at 2-3% to prevent product warping.

While manufacturing hydraulic lime releases greenhouse gases, unlike concrete, lime reabsorbs CO2, as it sets.