Horizontal exterior sidings like wood clapboards, vinyl, and fiber cement have traditionally been nailed directly to underlying sheathing, typically over a water-resistant underlayment of asphalt felt or some sort of housewrap. This is still common practice, but over the past few decades, a more labor-intensive technique known as rain-screen siding has been steadily gaining ground.
Reportedly first recommended by Canada's National Research Council in the early 1960s, the rain-screen approach involves fastening siding to vertical furring strips, usually spaced to correspond with wall studs. These resulting vertical channels are usually covered with insect screening at top and bottom but are otherwise left open to permit free passage of air. As in a conventional siding application, OSB or plywood beneath should first be covered with a properly flashed and lapped layer of felt or housewrap.
According to rain-screen advocates, these open channels tend to reduce wind pressure against housewrap or felt, making it less likely wind-driven rain will penetrate housewrap imperfections. (In fact, rain-screen siding is sometimes described as "pressure-equalized siding.")
Any moisture driving through siding drains away quickly, while air space behind siding promotes rapid drying. This, in turn, may help prevent problems — such as mold and wood rot, as they can develop when moisture works its way past sheathing and into the wall cavity.
Reader SAM in NEW HAVEN writes:

"I'm working on details for a planned insulated pole barn house, and would like to create a vented rain screen assembly to allow the wall to dry to the outside.  Could you install Hansen metal siding over a vented rain screen furring strip (over a Weather Resistant Barrier mounted on the structural furring strips)?   Something like roll-on rainscreen or even strips of corrugated sign board like in this JLC article: https://www.jlconline.com/how-to/exteriors/easy-low-cost-drainable-strapping-for-rainscreen-siding_o."
Mike the Pole Barn Guru responds: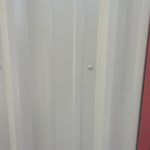 Engineered post frame (pole barn) houses rely upon their skin (usually steel roofing and siding) being properly installed to provide diaphragms. When material is placed between horizontal wall girts and steel siding to create a vented rain screen assembly, it defeats your building's structural integrity, unless structural sheathing is applied to wall girts.

You can dry to outside by just applying steel over a WRB over wall girts. Vertical steel siding does not allow for water to penetrate from outside like horizontal lap siding could. High ribs of steel panels will provide channels so any moisture passing out of the wall cavity and through WRB can run out the bottom of the steel siding.