Uplift Plate™
I realize I got you readers happily involved in reading a series of articles however I need to break it up slightly.
In delivering "The Ultimate Post Frame Building Experience"™ Hansen Pole Buildings perpetually searches for new materials and methods to maintain our post frame kit packages as best possible value for your investment.
An upgrade in recent years has been, for all roof supporting exterior building columns, inclusion of an Uplift Plate™.
According to vendor's information, Uplift Plate™ is a revolutionary new product saving Do-It-Yourselfers and post-frame builders time and money, while exceeding uplift requirements; it's a new way to anchor post fame buildings. This state-of-the-art design securely anchors posts to concrete without requiring time-consuming drilling. These inexpensive plates are field applied with just a framing hammer, eliminating extra tools and time associated with rebar or other uplift techniques. Simply hammer plates onto columns and it's ready to set in ground for concrete pour.

UNDERSTANDING HOW IT WORKS In order to anchor a post properly you need to make sure column and concrete are fused for life. Older techniques involve drilling holes though column and pounding in a piece of rebar. Or nailing a block or blocks of wood onto column. Either one becomes only as strong as materials used to join it.
Why Choose Uplift Plate™ Over Rebar?
Hot Dipped Galvanized Coated
or Regular Version
Easy to Install
Low Cost, Great Value
3 Times Stronger Than Rebar
Lightweight, Easy to Handle
Decay Resistant
Easily Worksite Application
Protects Center Post From Climactic Elements
Creates a Strong Bond
3 TIMES STRONGER? STUDY PROVES IT!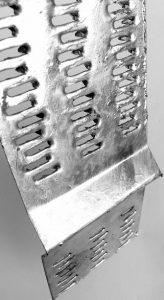 Using Truss Plate Technology Uplift Plate™ creates a stronger better alternative. Uplift Plate™ provides an adaption of this technology, simplifying processes while strengthening concrete to column bonds. Holding power increases by three times when using Uplift Plate™ compared to two ½ inch pieces of rebar.
A certified professional engineer performed a study utilizing mechanical tests comparing strength and durability of both Rebar and Up-Lift Plates encased in concrete. This study concluded Up-Lift™ Plate was three times stronger than rebar with its anchoring capabilities.
A new Hot Dipped Galvanized coated version meets International Building Code approval for Underground Application.