Nestled in the Finger Lakes Region of New York State is Cayuga County, the home of the Sterling Nature Center (https://www.facebook.com/sterlingnaturecenter/). This spectacular 1400 acre site, with nearly two miles of Lake Ontario shoreline, has been granted a conservation easement by the State of New York.
This unique park features glacially-formed bluffs, with scenic vistas of Lake Ontario. Its varied terrain of wetlands, vernal ponds, woodland, creeks and meadows is home to diverse species of wildlife and plants. This diversity of land and species offers numerous opportunities for education and recreation.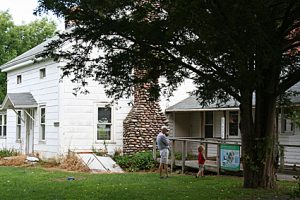 Within the next several years, Sterling Nature Center could be getting a new Interpretive Building to replace the Jensvold House.
Listed as one of the highest priorities in the center's drafted 10-year Functional Management Plan for 2016-2025, Director Jim D'Angelo said anything bigger and better than the current building would help meet program needs.
"Right now with this building, we don't have any large meeting room," D'Angelo said. "We have a program room that we can sit maybe 20 to 30 people comfortably, but we wanted to introduce some other programs like having live animals come in."
This, he said, would require a room to fit at least 100 people. The Jensvold House, which was sold to Christopher and Anne Jensvold in 1933, has needed lots of upkeep, and many structural repairs are difficult considering the roof tiles have asbestos.
David Nelson, planner for the county's Planning and Economic Development Department, said long-term he doesn't believe the building is sustainable. He said it's a matter of when it will be torn down rather than if.
Between a combined pool of funds set aside by the county and funds gathered from Friends of Sterling Nature Center, there's approximately $200,000 to be used toward a new structure. There have been talks of erecting a pole barn, similar to one which was recently installed at the Ward O'Hara Agricultural and Country Living Museum (https://www.facebook.com/Ward-W-OHara-Agricultural-Museum-180516872001677/) in Auburn. D'Angelo said he'd like to incorporate more of an environmental theme to the building, using green technology to help the building run more efficiently.
Post frame buildings are ideal for interpretive buildings and nature centers both for public and privately operated facilities.
Hansen Pole Buildings provided the structural design and materials for the Nature Center at the Cheyenne Mountain Zoo in Colorado Springs, Colorado (https://www.cmzoo.org/) . This particular building was designed to flow with the natural topography of the site including a daylight basement concept to allow for ten feet of grade change. A great room for large meetings was available and could be segregated off into smaller sections by means of moveable dividers suspended from the prefabricated wood roof truss system. The highlight of the great room is a massive stone fireplace.
Post frame buildings lend themselves to projects such as these, which often rely upon donated funds to make them come to fruition. Quickly and easily constructed (even with volunteer help), they are an ideal addition.
We look forward to working with the Sterling Nature Center on their upcoming project.