My only sibling, younger brother Mark, spent years in the construction industry. Among them were being top selling Building Designer at M & W Building Supply (when I owned it) in Canby, Oregon  and my partner in the post frame (pole) building construction business at Momb Building Systems.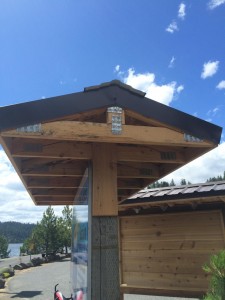 Mark is pretty sharp at keeping his eyes open for interesting things upon his journeys. An active guy, it appears this one was taken of signage along a bicycle trail he frequents.
There are lots of locations which need reasonably priced, yet functional, durable and maintenance free. Pole (post frame) buildings are an absolute idea choice for this. In this case – along a bicycle/walking trail, although parks and other public properties could be possible locations.
Now the photo my brother took, while a pole building and functional, is not how I would have designed the signage cover.
As this one is built, there is no steel (or other) siding covering the end trusses. Repeated weathering (rain and snow) followed by baking in the sun will cause the lumber to deteriorate and the steel truss plates to gradually come out of the wood. Eventually, besides looking ugly in the interim, the end trusses will probably fail.
The steel roofing has been applied with screws to OSB (oriented strand board) sheathing. This would be far less than ideal as the screws used for attaching steel roofing are designed to hold in solid wood, not OSB.
In my design, there would be a single truss notched into the outside of each column.  Purlins and fascia boards would be on edge, over the top of the trusses, and attached with Simpson H-1 hangers and solid blocked in between. Rather than plywood sheathing between framing and roof steel, I'd recommend the use of Condenstop (https://www.hansenpolebuildings.com/2014/07/condenstop/). Oh, I'd make sure to cover any not pressure preservative treated wood, with steel siding.
Trailside Sign Covers are a great investment for service clubs to donate to worthy causes – plus qualifying organizations can get them at a discount: https://www.hansenpolebuildings.com/2013/08/charitable-organizations/