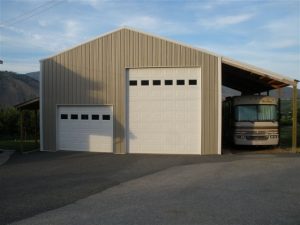 As an RV owner, you may enjoy weeks or even months of traveling the country every year. But do you have a plan in place for those times when you won't be using your motorhome? If you have a permanent home and give your RV a break for part of the year, it's important to think about proper storage. After all, excessive exposure to the elements and local pests can lead to faded paint, cracked vinyl, compromised insulation, damaged wires, and other problems.
Not sure how to keep your RV in the best possible condition when it's not in use? Start with these 5 RV storage tips.
Wash and Wax the Exterior
Be sure to use a wax that was specifically formulated for the material from which your motorhome exterior is made. This will help protect the vehicle's finish.
Clean Out the Interior
If you're preparing your RV for storage, you might as well take the opportunity to clean out the interior. Wipe down all surfaces and look for ways to minimize clutter. Remove all food and crumbs so that you don't attract any unwanted animal visitors.
Check for Cracks and Openings
Any openings in your RV can let moisture in, which can lead to interior damage. Check the roof seams, body seams, and window sealant, and make sure there aren't any gaps or holes in the vehicle's underside. If you do find any gaps, fill them with silicone or expanding foam—just make sure you test the expanding foam out somewhere else first if you've never used it before.
Remove Batteries and Change Your Oil
For long-term RV storage, consider removing your vehicle's batteries and storing them somewhere they won't freeze. You should also change your oil for your engine and generator so that you don't have to deal with corrosion.
Keep Your RV Indoors
One of the best solutions for long-term RV storage is an indoor space. Hansen Pole Buildings offers custom RV storage building kits, allowing you to easily construct a custom garage that fits your particular motorhome. Indoor RV storage buildings are available in a range of styles (including gable, monitor, and gambrel) as well as wall materials (including board and batten, vinyl, steel, or even brick) so that you can choose the right aesthetic for your property.
With your motorhome in an indoor or covered RV storage building, you can rest easy knowing it will be protected from the elements and ready to go the next time you plan to hit the road.