DEAR POLE BARN GURU: I like the idea of a 2-stall garage with second level for storage. Is a second level storage area more economical than increasing the square footage of the building? Lot less concrete. JOEL in INDEPENDENCE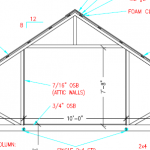 DEAR JOEL: Only in rare instances is it more cost effective to go up, instead of out. Some of the determination will be what the actual use of the space will be. If all you are after is very light storage in the trusses with no need for a bonus room, then ordering a roof system designed to support what I will refer to as a "Christmas decoration" load. This will be less expensive than greater footprint (although not as convenient to access.
By Building Code definition a "light storage" load is 125 psf (pounds per square foot) live load, which is more than four times greater than a residential floor. If you are going up, then it is probably best to define the area as being a residential bonus room, unless you do intend to store every heavy items on the floor (e.g. stacks of books, engine blocks).
In my mind – I am always after practicality, so if it is worth storing, then it is worth having ready access to when I want – which makes my solution a larger footprint unless physical space dictates no other design solution.
DEAR POLE BARN GURU: If I were to use your reflective radiant barrier, can I also use batts fiberglass with it. If so, which product is put up first (I have a post frame building) and was thinking of putting the reflective attached to the underside of the purlins and then batts. If this can be done, I was looking for what goes up or in the cavity first, and if can be done, faced or unfazed batts. Thanks for any help. ROBERT in MCCAULEY
DEAR ROBERT: The CAN vs. SHOULD question.
You could place a reflective radiant barrier on the underside of the roof purlins, however it is only going to be effective at condensation control provided you can completely seal it. As the purlins most probably connect to roof truss, chances are it would be nearly impossible and most likely improbable to achieve the desired result.
As your building is already constructed, if it does not have a vapor barrier on the underside of the roof steel, then you should have closed cell foam insulation spray across the underside of your roof surface.
Provided your building's roof trusses have been design to support the weight of a ceiling, and is adequately vented, you can use unfaced batt insulation across the attic floor, however blown in insulation will be far more effective and probably competitively priced.
DEAR POLE BARN GURU: Is it difficult to Insure a Pole Barn Residence in Michigan? Looking to build in St. Clair Michigan on approx. 5 acres. JOE in SPADA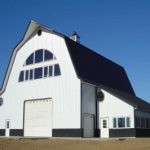 DEAR JOE: Due to the unfamiliarity of insurers with what a post frame (pole barn) residence is, maybe. What you are actually insuring is a wood frame residence, with whatever the choices of roofing and siding happen to be. Post frame construction is Building Code conforming and as long as you present it as a wood frame residence and it has been designed by a registered design professional (RDP – architect or engineer), you should not have an issue.
My own home is a post frame building of over 8000 finished square feet with three floors and two elevators and we have not had a single issue with obtaining insurance.