Today the Pole Barn Guru discusses potential DIY savings, moving an existing building, and the ideal building size.
DEAR POLE BARN GURU: I am out of the area of which I can order a premade kit and have it shipped to me. If I wanted to still build it myself and buy the parts local how much savings would you say I could expect to save by doing that and still subbing out most of the work? PRESTON in IDAHO FALLS
DEAR PRESTON: Hansen Pole Buildings delivers post frame building kits into your area of Southern Idaho frequently, so we could certainly meet your needs. Hiring your own engineer to design the building and purchasing materials locally on your own will probably add 15-20% to the cost of investing in a complete kit package which includes the engineered plans. Acting as your own General Contractor and subbing out most of the work should save you around 25% as opposed to hiring a general to do everything for you.
DEAR POLE BARN GURU: I have a Morton pole barn 35 x 62 that I would like to relocate .The location is 91 xxxxxxxxx rd Hackettstown NJ If you google the location you will see the green Morton building. I would like it to go behind the small white pole barn which will be removed.
Thank you, WAYNE in HACKETTSTOWN
DEAR WAYNE: You might be able to contract with a house mover in your area to relocate your building. Here is a link to a previous article on this very subject: https://www.hansenpolebuildings.com/2013/07/shop/.
DEAR POLE BARN GURU: Does it make more economic and structural sense to build a 40' deep x 56' wide or 32' deep x 56' wide pole barn to house tractors and farm equipment and why? BRENDA in FENELTON
DEAR BRENDA: For starters – always construct the largest building you can economically justify and which will fit on your property. In the almost 20,000 post frame building projects I have personally been involved with, I have yet to have a client contact me after they were using their building and tell me it was just too big.
Economics – As a general rule of thumb, with identical features the price per square foot will most generally decrease as the footprint gets larger. Buildings closer to square are normally more affordable than ones the same size which are long and narrow (this is the structural issue, as properly designed the diaphragm strength of the more square building is more effectively utilized.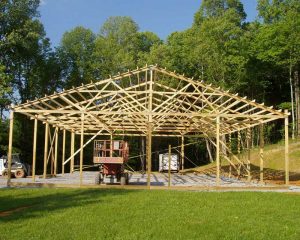 Buildings which are even numbers for width and length, width and length divisible by three, and length a multiple of 12 feet are most normally the most cost effective for utilization of materials. Lumber comes in multiples of two feet long, steel roofing and siding is three feet wide, the 12 foot length multiple is generally the "sweet spot" for requiring the least number of columns, trusses and pieces to handle.