Don't be the Next Break In
Sometimes the story is not the story and the misfortunes of others can be a lesson.
In this morning's news:
"Police are seeking information about a break-in at a Wexford County, Michigan pole barn.
The incident occurred Monday on Boon Road in Haring Township. A side door to the barn had been pried open, according to police.
A large gun safe containing four firearms was taken from the pole barn. The firearms included a .22 caliber rifle, a .357 caliber revolver and a shotgun. The safe also contained a large amount of silver 50 cent pieces."
In general, for most people, the concept behind owning a new pole (post frame) building is to protect possessions of value. We have stuff which we want to keep from being damaged by the elements or permanently borrowed.
The morning news (above) gives just one of many examples of a case of a permanent borrow.
There are ways to minimize the potential for your new building being the next break in which appears in the news –
We are as yet unaware of a case where anyone has pried open a sectional overhead door to gain access for burglary. Even the best of sliding doors are subject to being able to be pried open. It is just the nature of the beast. Sliding doors (by their very name) need to be able to roll open past the adjacent sliding. When closed, this affords points which can be levered open – even when securely latched from the inside.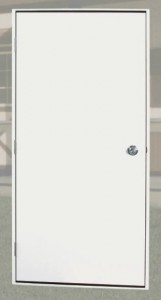 Entry doors…..
This is where I see more penny wise and pound foolishness than anywhere else in building (today's near worthless trivia – while this phrase is often attributed to Ben Franklin, credit is more aptly given to one-time Secretary to the Treasury of Great Britain William Lowndes).
How about saving a few of those Ben Franklins by picking up a basic entry door at your local hardware store for around $130?
While I am sure this is an excellent buy, if I am a burglar, I will spend about two seconds kicking this pole building door in as the wood jamb breaks. The upfront savings of a person door such as this, will not probably cover the deductible from your insurance when you are burglarized.
Commercial steel entry doors, with steel jambs don't make it impossible to break in, but they certainly make a burglar think twice before they even try.
Please – if you listen to nothing else I have to say – when planning a new pole building door, plan to order doors which at least will keep the honest people honest.