Moratorium on Pole Barns?
The Port St. Joe, Florida commissioners will be holding a workshop to discuss accessory buildings, in particular pole barns.
Commissioner Rex Buzzett brought the issue up at the previous meeting and moved to implement a moratorium on additional permits for accessory buildings until commissioners discussed the topic in greater detail.
Mayor Bo Patterson and Commissioner Brett Lowry said they could not agree to such a moratorium, Patterson arguing one concern of residents about the issue was too much government interference.
But, Patterson added he counted at least 30 pole barns during an informal tour of the city and commissioners agreed the proliferation of them (look no further than Oak Grove, Buzzett said), could be problematic.
"There are a lot of things that concern me," Buzzett said. "I do think we need to slow it down and get a handle on it."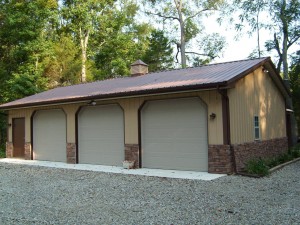 Mike the Pole Barn Guru comments:
I've been in jurisdictions which have attempted to restrict residential accessory buildings and the end resultant seems to more-often-than-not result in taxpaying voters who are less than pleased with restrictions placed upon the use of their property.
Residential accessory buildings serve the public by keeping extra vehicles and belongings from becoming backyard (or front yard) eyesores. If the case is the "look" of the buildings, restrictions can be placed upon them so as to have them blend in with the residences they are most adjacent to. A mandate to match the type and color of siding is the most prevalent which I have seen, and appears to be most palatable to home owners.
For the most part, however, having building features tie in with existing structures seems to be a better route. By designing buildings with more residential features such as enclosed overhangs and residential raised panel doors, as well as color schemes which are complimentary to the nearby home, the durability and cost savings of steel siding can yet be maintained.
Hopefully this group of commissioners can keep level heads and realize if there are a number of pole barns in their jurisdiction, it is due to the desire of their constituents to have them and they will not enact onerous restrictive measures.