Square Cut or Plumb Cut
Back in the 70's, when I first entered the prefabricated metal connector plated wood truss industry, I was a sawyer. Sawyers are the folks who operate the component saws which precision (hopefully) cut all of the components prior to assembly.
The people I worked for over the first few years of my truss career did not have what is now known as a component saw – one which uses a conveyor to pull each board through a series of four or more saw blades. Instead, we had Speedcut radial arm saws which were rotated manually by the sawyer to the needed angle. Very labor intensive.
In order to reduce cutting labor, the majority of the top chords (rafters) we cut were left square (as the lumber came from the sawmill) on one end. This meant the framing contractors had to cut all of the "tails" to length in the field.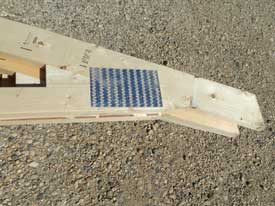 Most truss manufacturers now have the equipment which allows them to precession cut and trim most any truss member by using component saws. Strangely, some of them still leave the "tails" of the trusses square on the overhanging end, rather than plumb cutting. Plumb cutting means the cut on the end of the tail will be perpendicular to the ground.
Now why would how the tails are cut by the manufacturer be problematic?
To easily install gutters, it is far simpler to be able to attach them to vertical fascia boards. When fascia boards are installed on the ends of square cut truss tails, specialized gutter hangers must be used, or wedges placed between the fascia and the gutters.
One other consideration, the most common eave (sidewall) overhangs on pole buildings currently are enclosed with vinyl or metal soffit panels. In our case, we precut white vinyl soffit panels for our clients in 12, 18 and 24 inches. Some roof truss manufacturers who square cut the tails of their trusses measure overhang distances with the "run" of the roof, making the level returns of the enclosed soffits lesser in distance than the length of the precut panels.
Buy trusses on your own (I wouldn't recommend it – which is the topic of a future article)? Specify plumb cut tails and overhangs measured horizontally.