Today the Pole Barn Guru answers questions about frost protected shallow foundations, repainting metal buildings and a kit in Hawaii.
DEAR POLE BARN GURU: What type of frost foundation would you use if planning on doing a finished space in part of the building? ERIC in WINTERSET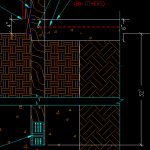 DEAR ERIC: I'd do a Frost Protected Shallow Foundation using embedded columns with a concrete footing below and a bottom collar which would be 24 inches or more below grade. I'd backfill the inside of the vertical insulation with sand and pour a slab on grade. Read more here: https://www.hansenpolebuildings.com/2016/11/frost-protected-shallow-foundations/
DEAR POLE BARN GURU: Hi I'm located in Ramsey Mn do you guys paint pole building or just sell the paint? I think my building is 30×60 I'm looking to have it repainted let me know thanks, Zach or if you know someone that does good work to call to have it done. ZACH in RAMSEY
DEAR ZACH: We do not paint pole buildings or sell the paint. You will want to read this article: https://www.hansenpolebuildings.com/2013/01/repainting-steel/.
DEAR POLE BARN GURU: Hi, I came across some of your buildings at Home Depot website. It might be possible to get one of your buildings thru them here to Hawaii. Can you provide treated lumber in your kits? Terrible termite problems here, untreated lumber eaten in several years. Thanks, MARC in KONA
DEAR MARC: We've provided many post frame building kits to the Hawaiian Islands and our system is set up so all pressure preservative treated lumber is automatically selected for buildings going to Hawaii. Generally buildings for Hawaii are shipped in containers from the Port of Seattle, as shipping costs are lower than obtaining the components on the islands.