DEAR POLE BARN GURU: Just wondering if you build homes? I'm interested in building an open floor plan home with this style of architecture. NICK in SICKLERVILLE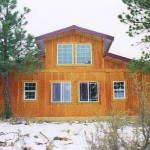 DEAR NICK: We do not happen to build anything, as we are not contractors. We do, however, design and provide the materials for post frame homes. Post frame construction is a very effective method for getting an open plan, as it allows for large clearspans without the need for interior walls or columns.
DEAR POLE BARN GURU: Are there any problems with building a pole barn that has two perpendicular roof lines. I want an open truck/vehicle port incorporated into the barn that I want to build but because of site location I need the open vehicle port ridgeline to run perpendicular. I know this will create a valley and I am not sure with this type of construction what unforeseen problems could occur. will the roof purlins match or just how to handle the mating of the two roof lines. Thanks, VERNON in BURGAW
DEAR VERNON: The biggest problem is very few post frame building contractors or suppliers understand the intricacies of melding two opposing roof lines together. In snow country, drifting loads on roofs such as these can become problematic. Roof leaks can occur along improperly flashed and sealed valleys, resulting in all kinds of unexpected results.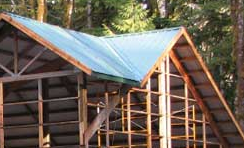 Can it be done and done correctly? Most certainly. Yours is a situation we deal with on a frequent basis and can provide a design which is structurally sound without creation of a myriad of extra work on your part. The other solution is to hire a RDP ( Registered Design Professional – architect or engineer) to design your new post frame building, however most do not have the experience in post frame design to come up with what might be the most practical solution.
DEAR POLE BARN GURU: What size pole barn do I need to store a 23.6 x 7 x 7.6 gooseneck horse trailer a 20.5′ Glastron boat on a trailer (longer) a 7.6 x 7 x 11 bumper pull horse trailer and a 2500hd GMC truck. Along with small miscellaneous things. And what is the set off required in Indianapolis. TAMMY in INDIANAPOLIS
DEAR TAMMY: Let's start with the people who are in the know on what is allowable for your property – your local Planning Department. They should be your (or anyone's) first point of contact when considering the construction of a new building of any sort. Set backs will vary depending upon how your property is zoned, and each jurisdiction has their own ideas as to what the requirements will be. They can also give you information on the maximum allowable footprint and any restrictions on heights.
Here is more information on Planning Departments (you will want to read it): https://www.hansenpolebuildings.com/2013/01/planning-department-3/.
When planning for a new building, it is always prudent to allow enough space between vehicles and/or other pieces of equipment to be able to safely walk around them, as well as swing doors open and not compromise wall space (which there is never enough of).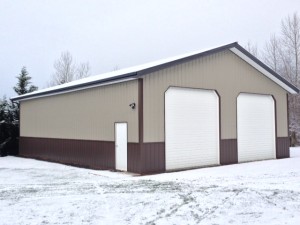 At a minimum, it sounds like a footprint of 48 feet in width and 30 feet in depth should allow for all of your vehicles and trailers to fit in. Notice I say 48 feet in width – it is because I typically recommend having large doors in the endwalls so rain and snow are not coming off the roof in front of your doors. Overhead doors for each of these should be at least 10 feet in width, which allows for two feet between each of the doors. Heights obviously will depend upon the height of each individual piece, but should all be a minimum of eight feet in height.
Even better yet, would be a width of 52 feet – which would leave three feet from corners to the door, or 55 feet which would also then put three feet between each door.
Whatever size you do decide upon, it will never be too big!