Master Seal® Flow Cone Washers
Master Seal® washers are assembled to a wide variety of Leland Industries fasteners, including diaphragm screws utilized in Hansen Pole Buildings. Flow Cone Washers (US Patent #4292876) utilize vulcanized Grey or Black EPDM (Ethylene Propylene Diene Monomer) to special dished dome galvanized washers. This EPDM flows up into a cone shaped washer to seal around screw threads, fastener shank and under the fastener head providing a complete seal.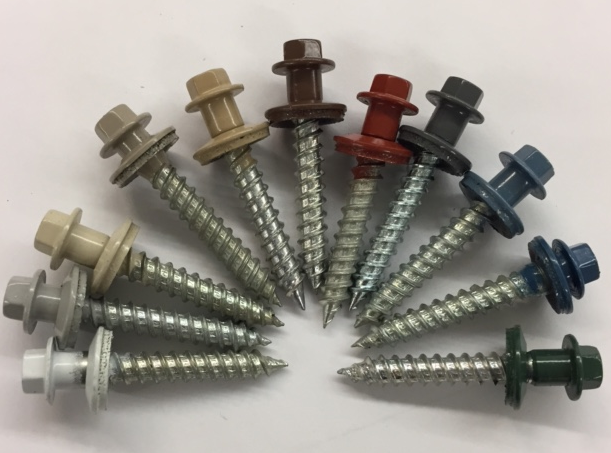 Steel-to-wood fastener for years was a ring shanked nail with a neoprene washer under nail head.
Why EPDM instead of neoprene?
As EPDM has increased in popularity, pricing has become more competitive and offers savings over neoprene in certain applications without compromising effectiveness.
EPDM and neoprene are both considered to be good all-purpose materials. They can be extruded and molded into a variety of sponge and dense products.
However, EPDM will be superior to neoprene in UV and Ozone resistance and may be more favorable when heat resistance factors in. EPDM seals also provide better flexibility during low temperatures compared to neoprene.
In testing, EPDM shows no signs of aging after 20 years of full exposure under equatorial sun. Both Greenpeace and "Green Building Digest" magazine rank EPDM as tops as far as having a low environmental impact. EPDM has a usable service life of 50+ years.
When it comes to strength and serviceability of post frame buildings, perhaps nothing becomes more important than only highest quality of fasteners. Without screws able to last as long as your building's steel roofing and siding, your building's lifespan (not to mention usability) could be severely compromised.
A core Hansen Pole Buildings value is to continually search for products delivering the best possible value for our clients. Diaphragm screws featuring Master Seal® Flow Cone Washers are just one of the many ways we look out for our clients' best interests as part of delivering "The Ultimate Post Frame Building Experience"™.