FSC® Lumber
When my youngest son Brent and I were helping Eric construct his self-storage pole building (you can read about it here: https://www.hansenpolebuildings.com/2014/06/builder/ we noticed some of the lumber had FSC stamps on it. I had heard of lumber certified by the Forest Stewardship Council® (FSC) but had never seen any of it in real life before.
So, what is this FSC stuff all about anyhow?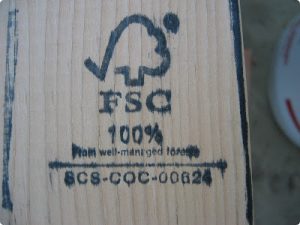 After the 1992 Earth Summit in Rio de Janeiro failed to produce an agreement to stop deforestation, a group of businesses, environmentalists and community leaders came together to create the Forest Stewardship Council.
Gathered in the first FSC General Assembly in 1993 in Toronto, Canada, the group set out to create a voluntary, market-based approach which would improve forest practices worldwide.
At the time, FSC represented an alternative to boycotts of forest products, which were shown to be counter-productive since they devalued forest land.
In 1995, the United States chapter of the FSC was established, and is now headquartered in Minneapolis, Minnesota.
Over the past 20 years, FSC has earned a reputation as the most rigorous, credible forest certification system. As a result, there are significant advantages to choosing FSC-certified products:
Credibility – FSC is an independent, member-led group organized into social, environmental, and economic chambers which have equal authority. Members elect the board of directors and vote on major decisions. Anyone committed to responsible forest management can become a member of FSC. This open and balanced approach is unique to FSC and ensures a diversity of perspectives are represented in decision making.
Environmental Protection – FSC's forest management standards expand protection of water quality, prohibit harvest of rare old-growth forest, prevent loss of natural forest cover and prohibit highly hazardous chemicals, which are all unique aspects of the system. For example, FSC prohibits the use of atrazine, which is otherwise legal in the United States but banned in Europe because it has been shown to cause water pollution and birth defects. Other certifications allow atrazine use, including aerial spraying of the chemical.
Community Engagement – FSC requires forest managers – on both public and private lands – to engage local community members and to protect customary rights of indigenous people, ensuring their voices are part of the certification process and impacts of forest operations are addressed. In addition, FSC requires the results of certification audits to be released to the public, even on private lands, which makes FSC unique among forest certifications.
Access to Markets – Many major companies have policies which state a preference for FSC-certified products. Green building standards, including the US Green Building Council's LEED program, provide incentives for using FSC-certified materials. Increasingly, consumers are requesting FSC-certified products in retail stores across the country. Many governments require the use of FSC-certified products. Companies which produce FSC-certified products gain access to these markets, and many others.
Concerned about how the lumber for your new post frame building was managed? You can specify FSC lumber for your new building and it can be included, for a nominal upcharge.