All-in-One Door Seal Kit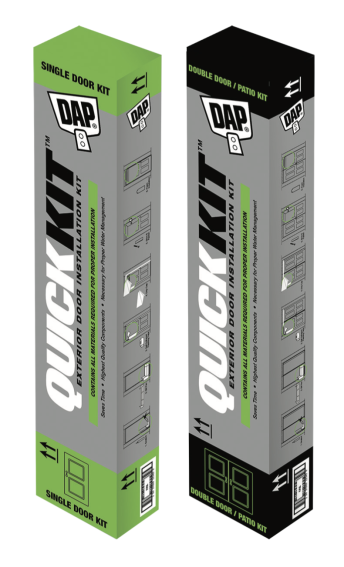 The following article was originally produced and published at www.Builderonline.com, who is solely responsible for its content. This story is being republished to raise awareness of information publicly available online and the accuracy of author's claims has not been verified. As such, we cannot vouch for the validity of any facts, claims or opinions made in this article.
DAP has bundled a number of its sealant and flashing products with an assortment of third-party door hardware to create the DAP QuickKit, an all-in-one kit that contains all the materials and parts necessary to install and weatherproof one exterior door.
According to Tom Rapps, Director of Marketing and Business Development for DAP, this kit serves to simplify the purchasing process for door installers, as these components can be hard for contractors to find in one place, or in the right quantities.
"As materials and techniques for exterior door installation have evolved over the past decade, finding the right materials in the right quantities has become a challenge, resulting in the loss of valuable time and money," says Rapps. "The DAP QuickKit alleviates these issues by providing exactly what the installer needs to complete the job all in one box, without concern for missing materials, excess waste, or quality. No guesswork required."
The kits are available in single entry-door, double entry door, and sliding patio door configurations. The single-door kit, available in a green box, accommodates rough openings up to 40 inches wide, while the double-door kit, packaged in a black box, accommodates rough openings up to 80 inches wide. Both are available in 4 and 9/16th inch and 6 and 9/16th inch jamb sizes. The sliding-door kit, also in a black box, accommodates rough openings up to 72 inches wide, and is available in 3 and 1/4th inch and 3 and 5/8th inch jamb sizes.
All QuickKit components are tested to meet the highest ASTM standards. Each kit includes:
DAP Dynaflex 800 Sealant: 3-4 10 oz. cartons. The mold-resistant sealant is watertight, weatherproof, and equipped to seal dissimilar substrates. It is tested to meet AAMA 800 specificaitons.
DAP Draftstop 812 Window and Door Foam: one 9 oz. can. The foam is AAMA 812-tested to seal out water, air, and sound. Its closed-cell structure resists water absorption.
DAP LT Poly Flash 711: one 4 by 30-inch roll. Available at a smaller roll size than standard, providing just enough flashing for one installation. Includes a split-release liner and may be installed in temperatures as low as 0 degrees F.
One bundle of 12 pre-scored composite shims.
Jamsill Guard Sill Pan: one center extrusion for single doors and two center extrusions for double and patio doors, supplied in partnership with Jamsill, Inc. The ASTM 2112-compliant sill includes sloped weep areas.
Aluminum head flashing: 1-2 42" drip caps.
Twelve galvanized screws.