One of our clients recently sent us the following by Email….
"The main issue we have is that the sidewall pieces and wainscot only add up to 8'7″, leaving almost 7″ of uncovered space between the top of the metal siding and the fascia all the way around.  We thought maybe it was a mistaken size that had been shipped, but now realize that the plans include the concrete pad in the 10 ft. high walls, rather than starting at the top of it, so the walls wouldn't really end up being 10ft high, but closer to 9'4″.  But now everything has been framed based on calculations from the top of the pad. The endwall pieces will have the same problem.  What do we do now?  You can contact the builder (Joe xxxxxx) at xxx-xxx-xxxx with any specific questions.
My readers may recall back in March (Blog #199???) I addressed the subject of eave height. I wrote, "Eave height is: the measure from the bottom of the pressure treated splash plank, to the intersection of the underside of the roofing at the outside edge of the sidewall columns."
When clients receive quotes, or place orders with Hansen Pole Buildings, they all state explicitly eave height is not interior clear height. This gives clients a pretty fair idea of what to expect.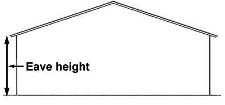 To clarify matters, every building package comes with two sets of multiple page, two foot by three foot building plans. On at least three pages of the plans, in seven different places is stated, "Eave height = bottom of skirt board to intersection of roof steel and outside edge of sidewall columns".
Assuming the building plans were somehow ignored, the correct measure of eave height is also stated repeatedly in the Construction Guide provided with the purchase of every post frame building kit.  There are diagrams and pictures with clear marking of dimensions, along with written encouragement for anyone not understanding eave height, to "call us".
In this particular case, our client hired a builder to construct her new building. The builder's error – he placed the roof trusses six inches higher on the columns than specified on the building plans and in the instructions.
Historically, clients who construct their own buildings rarely make this error – they read the provided documents. Considering hiring a builder? If so, find one who will read and pay attention to the plans and instructions.  Most of all, hire one who is not afraid to ask questions and clarify things if he's not familiar with constructing a building kit from your chosen vendor.  Just like any other do-it-yourself kits, they are not all "the same."