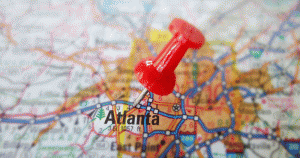 Between its dense metropolitan areas and close access to more rural and agricultural areas, Atlanta has a lot of different needs for building space. For easily customizable and quick construction, Hansen Pole Buildings offers pole barn kits that can be used for purposes ranging from large residential spaces to simple storage units. For two decades, we have been a top distributor of pole barns in the Atlanta metro area, and we're excited to continue to thrive along with the community.
Our pole barn kits are popular in Atlanta, GA and the other Southeastern U.S. states: Alabama, Arkansas, Florida, Kentucky, Louisiana, Maryland, Mississippi, North Carolina, South Carolina, Tennessee, Virginia, and West Virginia.
Not only do we offer a variety of designs, but our pole barn kit prices are among the most competitive in Atlanta. We also offer a price matching guarantee—if you find an identical kit from a competitor at a lower cost, we will match their rates.
Atlanta Pole Barn Types
Because of the geographical diversity of the Atlanta metro area, it's crucial to find a building that fits your exact needs. Our structures are extremely versatile, making it easy to personalize and customize your pole barn to meet your requirements. The following buildings are popular around the Atlanta area:
Pole barns are an increasingly popular choice for easily customizable homes. If you're looking to build your own dream home, don't settle for anything less than what you've always wanted. Our pole building homes in Atlanta can help get you there at the fairest price!
Whether you travel the country in your RV or farmland in your tractor, our RV storage buildings are perfect for larger vehicles, keeping them safe from the elements when they're not in use.
Atlanta has a number of different industries within its metro area, and our workshops are a perfect fit for sectors of all kinds. Affordable and easy to construct, these pole barn workshops can be customized to fit the exact needs of your project.
Garage Buildings: Garage buildings are a great addition to any land in need of storage space for anything from cars to farming equipment.
Build the Right Pole Barn for You
The versatility of our pole barn kits is a perfect match for the diversity of the Atlanta metro area. Below, you'll find a list of different types of buildings you can create from one of our kits.
Find the Best Local Pole Barn Builders
A major benefit of our pole barn kits is that you can either assemble them yourself or hire a third party to do it for you. They come with straightforward directions designed to make sure construction goes as smoothly as possible.
Do It Yourself
If you're a regular handyperson or you're just looking for a project to keep yourself busy, assembling the kits yourself is a great option. Our kits are designed with even the most inexperienced builder in mind, meaning you'll get simple steps to guide you through the whole construction process.
Atlanta Construction Companies
Construction companies are plentiful in the Atlanta area. Searching "Construction Companies in Atlanta" on your preferred search engine will bring a list of companies you can call to get a quote on costs for assembling your kit.
Atlanta Contractors
Another building option is to contact a contractor directly. Any professional should be familiar with pole barn kits and have the resources to construct them. We are happy to put you in touch with a preferred contractor in the Atlanta area.
Pole Building and Pole Barn Pricing
Hansen Pole Buildings is proud to offer pole barns for the best prices you'll find. Below you can learn more about general prices for different sizes of pole barns in Atlanta.
Small Pole Barn Prices
Depending on what you're looking for, you can expect to pay anywhere from $7,000 to $18,000 for your smaller pole barn. With that in mind, there are still several different layouts for you to choose from or customize.
Medium Pole Barn Prices
Medium pole barns, like their smaller counterparts, can also be customized for any need. For this size, the price range is between $18,000 and $39,000 or so.
Large Pole Barn Prices
The average starting price for our larger pole barns is roughly $40,000. However, depending on the exact size of your building, the price could go up to $90,000 or more.
Pole Barn Kits Are Also Available in These Regions
We sell pole building kits way beyond Atlanta. Check the pages below to find pole barns in other parts of the U.S.
Build a home or get more storage space for your belongings in America's heartland.
Our pole buildings are both strong and comfortable enough to withstand harsh northeastern winters.
Whether you're in the gulf or the desert, our pole barns will hold up as well as any building in the area.
Post-frame construction is catching on everywhere from the Pacific Northwest to Palos Verdes.
Get A Free Quote!