This Wednesday the Pole Barn Guru tackles reader questions about the potential wide and tall a pole building can be designed, if a pole building can be building on a slope, and how to mitigate condensation in an existing 'horse barn' with an open metal roof.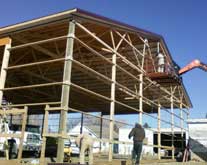 DEAR POLE BARN GURU: How wide and tall can a pole building be? TODD in ALLENWOOD
DEAR TODD: While clear spans of 120-150 feet are possible, from a practicality standpoint 80 feet is realistically about it. Overall building widths can be increased by utilization of interior rows of strategically placed columns. Structurally, Building Codes allow for sidewalls (at eaves) to be 40′ (or 50′ with fire suppression sprinklers). Some jurisdictions have more restrictive overall heights, so you will want to check in with your local Planning Department.
DEAR POLE BARN GURU: Can a barndominium be built on sloped land? And if so, what is your professional recommendation on how to build? Thank you! JENNIFER in BONITA SPRINGS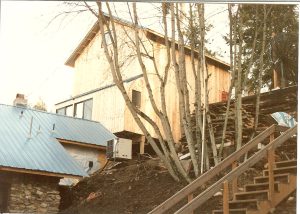 DEAR JENNIFER: Post frame barndominiums lend themselves very well to building on slopes. I solved a personal situation where I had 14 feet of grade change in 24 feet, by building on stilts: https://www.hansenpolebuildings.com/2022/11/what-to-do-when-the-old-post-frame-garage-has-issues/
For another building, on same parcel, I had 12 feet of grade change in 40 feet, so I excavated hillside and used ICFs (Insulated Concrete Forms) for tall sidewall and stepping down across rear endwall. This basically created a daylight or walkout. It is mentioned as part of this article https://www.hansenpolebuildings.com/2020/02/barndominium-on-a-daylight-basement/
Walkouts can be created using ICFs (as I did), poured concrete walls, or reinforced concrete block walls. With any of these, wet set brackets can be poured into tops of walls to attach building columns.
DEAR POLE BARN GURU: Hello, We've got an uninsulated horse barn with 'open' metal roof (no plywood underneath). We're having a problem with condensation dripping ruining some of our hay. We once saw a picture of white foam guides you can staple under the rafters to guide the dripping/air outside, but can't find a generic name, or a product name, for these guides. They are NOT an insulation product, but may be used under eaves? Do you know the name? We'd sure appreciate your help. TIM and LOUSIE
DEAR TIM and LOUSIE: This is where an ounce of prevention is worth a pound of cure. There are numerous product capable of being applied below rafters, trusses and/or roof purlins, however in order to be truly effective, you must be able to achieve a perfect seal (impossible in real life). If not, warm, moist air from inside your building is still going to rise, get through any gaps, and now be trapped with no way to escape. Even with a tight seal, unless there is a thermal break, chances are fair you will now have move the condensation from underside of roof steel, to underside of new product. There are some solutions – least expensive, highly labor intensive is to remove roof steel, install a well-sealed thermal break, reinstall roof steel or have two inches of closed cell spray foam applied to underside of roof steel.