Skillion Roof Question

Reader WELLS in AIKEN writes:

"I am building a 20′ x 24′ pole barn studio with a skillion roof. What size roof rafter to span the 20′ without any sagging? 2 x 8 or 2 x 10 or a more engineered rafter. I do not want any supporting poles on the interior of the studio."

Mike the Pole Barn Guru says: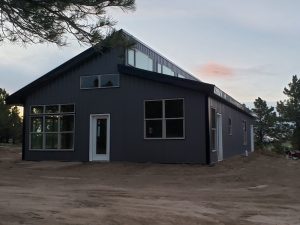 Skillion roofs have a single sloped flat surface. Other names for this style include lean-to, mono-pitched or mono-slope, or shed roof. They are popular for minimal and contemporary-style buildings.
A skillion roof can be inexpensive and easy to build. While you'll often see these roofs on minimal architecture, they're also a top pick for outbuildings. They provide optimal water drainage but aren't ideal for areas with high winds.
If you're considering a skillion roof for your post frame home, garage, or shed, here's what you should know:

Designers use skillion roofs on minimal-style barndominium homes. They're also popular for home additions, sheds, and garages due to their easy construction and high pitch. 
Skillion roofs are structurally strong. Their steepness provides optimal water drainage, and skillion roofs with a high-pitch work well for snowy climates.
These roofs are not a good choice for areas experiencing frequent high winds. Since they only have one slope, they're more likely to sustain wind damage than a hip or gable roof, for example. In post-frame construction, long columns on high sidewalls can become quite large.
Skillion roofs are ideal for any building owner looking for a contemporary, cost-efficient, or easy-to-build solution. But along with their strong set of pros are a couple of disadvantages. 
Here's a look at the pros and cons of a skillion roof.
Pros of a skillion roof:
Easy to build – A skillion roof features one flat, sloped surface, making this roof amongst easiest to build.
Affordable – Fewer intricacies and simple building plans result in a less expensive roof.
Modern aesthetic – Skillion roofs have a modern aesthetic, perfect for contemporary and minimal style buildings.
Good choice for building additions – A skillion roof is ideal for additions or extensions, provided drifting and slide off loads are properly considered in snow country.
Optimal water drainage – A skillion roof with a steeper slope have excellent water drainage.
Ideal for Snow – Roofs with a high pitch are ideal for snowy climates since steep angles allow melting snow to run or slide off.
Cons of a skillion roof:
Not ideal for high winds – Due to steep pitch and singular surface, skillion roofs are prone to wind damage and unsuitable for hurricane-prone areas.
Less attic space – Pitch majorly reduces amount of attic space. This can be con if you need extra storage space, a partial second floor, loft or mezzanine.
Wide clearspans can be problematic – Once beyond span capabilities of common dimensional framing lumber, engineered wood (such as LVLs or glu-laminated beams) can become cost prohibitive. Prefabricated wood roof trusses require significant depths at low end (depending upon span), resulting in decreased headroom or taller wall heights.

More expensive roofing – Most common 29 gauge through screwed steel roofing warranties are void on slopes of less than 3/12 (three inches of rise per foot of horizontal travel). For lower slope steel roofs, concealed fastener steel panels over sheathing or 26 gauge or thicker PBR panels become design solutions of choice.

In answer to your question, IRC (International Residential Code) Section 802 has rafter span tables for common load combinations. Table R802.4.1(2) with a dead load of 10 psf (pounds per square foot) probably best matches your situation. You could utilize 2×10 #2 Southern Pine rafters at 16 inches on center or 2×12 #2 Southern Pine at 19.2 inches on center, from this Table.