Exactly Identical and 20% Less
There is always someone willing to sacrifice quality and/or service to get to a lower price. I have seen it over and over again for decades now.

Price shoppers, or deal hunters, seem to be most interested in the lowest price. Unlike value shoppers who are willing to pay more in favor of an increased sense of value, deal hunters will only pay less and are willing to accept less.

I had an interaction recently with a potential client from rural North Dakota, who is looking to invest in a new post-frame building for a garage/shop. He had received a quote for a similar dimension building from a large vendor who advertises they will save customers big money and their price was quite a bit lower.
In my humble opinion, this client really wanted to do business with us – he was a value shopper, not a price shopper. He did offer to share his quote with me and I found it to be interesting, as it was a multi-page list of materials, rather than stating possibly important things such as building dimensions, design loads, etc.

My goal has always been to assist clients to help them avoid making choices they will regret forever.

Below is my response to this client:

Thank you for your patience while I have gone through xxxx quote. Here are some things I noticed:

xxxx building is not engineered and there is no stated design wind speed or exposure, both of which are critical for adequate structural design.

xxxx is furnishing nailed up columns, with 22′ ones being spliced. I did destructive testing of steel plate reinforced nail-lam columns at Oregon State University. Didn't work out as well as I had hoped – as the center member takes twice as much load as outer plies (due to nails from both sides going into center member) and failed every time.

They do not furnish posts for either side of entry doors

Their quote included OSB under roof steel, however screws do not hold in OSB and a 1″ screw would penetrate only 1/2″ into blocking between trusses, if added.

Their quote did not include wall OSB or housewrap.

Entry doors – builder grade, primed only, in wood jambs, as opposed to insulated commercial steel, in steel jambs, factory finish painted.

We used to buy overhead doors from Clopay (parent company of Ideal). Ideal doors typically have very low cycle springs and use nylon hinges as opposed to steel.

Our buildings utilize double trusses aligned with interior sidewall columns, to avoid the possibility of a single truss failing and pulling the balance of the roof down with it.

Ventilation should be intake at eaves, exhaust at ridge for best airflow. Endwall soffits should be non-vented and there should be no gable vents.

There is no Z trim on xxxx quote between wainscot and steel panels above.

Delivery not included from xxxx.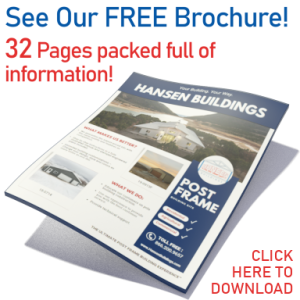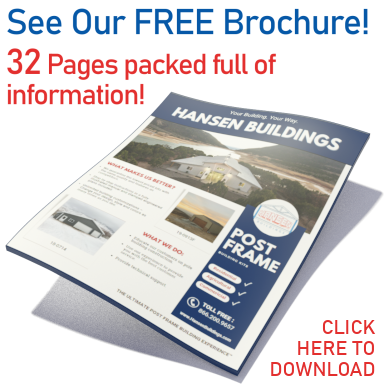 Attached quote is how I would want my own building…..

Commercial wall girts for insulation (2×8 on eave sidewalls), framing is included to be drywall ready. https://www.hansenpolebuildings.com/2019/09/11-reasons-post-frame-commercial-girted-walls-are-best-for-drywall/

Trusses with raised heels, so ceiling insulation will be full depth from wall-to-wall https://www.hansenpolebuildings.com/2012/07/raised-heel-trusses/

Raised panel (not industrial looking ones xxxx quoted) insulated WIND-RATED overhead doors https://www.hansenpolebuildings.com/2014/12/wind-load-rated-garage-doors/

Roof steel with an Integral Condensation Control https://www.hansenpolebuildings.com/2020/09/integral-condensation-control-2/

Besides fully engineered plans, showing location and connection of every component, you get our 500+ page step-by-step construction manual and unlimited free technical support from people who have actually built post frame buildings.

Will this potential client actually order his new building from Hansen Pole Buildings? There is a distinct possibility and if his choice is to invest elsewhere, at least he has hopefully gained enough insight to make an informed decision.