This week the Pole Barn Guru answers reader questions about condensation control in Spokane, WA, the availability of a hipped roof design to meet wind and snow loads, and planning for a post frame build on a sloped site.
DEAR POLE BARN GURU: I'm in Spokane, WA– a semi-arid region, and I had a question about using metal roof panels with prefabbed integral condensation control, such as Condenstop, along with a double bubble reflective barrier. I have a few left over rolls of the reflective barrier that I can use and would only need to buy an extra roll or two for our prospective 36×36 post frame building. Would it be ok to use both without trapping moisture between the 2? Or, should I only use 1? Building will have continuous soffit venting on both eaves and ridge venting as well. The building will be used in-part to store food-crop and will be temperature-controlled during all seasons, and has drywalled ceilings. Therefore, I'd like to insulate to the max. Was thinking spray foam between the purlins and also fiberglass batts? MATT in SPOKANE
DEAR MATT: I was born and raised in Spokane, owned a house on Newman Lake until just a couple of years ago. In the 1990's I was the area's most prolific post frame builder – one year we erected over 200 post frame buildings in Spokane county alone!
Let's look at doing this right, and not spend money just to spend money.
Spokane is Climate Zone 5A. 2021 International Energy Conservation Code requirements (IECC) are R-60 roof, R-30 walls
Roof: 16″ raised heel trusses, vent overhangs and ridge in correct proportion, roof steel with Integral Condensation Control, blow in R-60 of granulated Rockwool.
Sell your reflective barrier on Craigslist or Facebook Marketplace.
Walls: Steel siding, Weather Resistant Barrier (Tyvek or similar), 2×8 commercial bookshelf girts, R-30 Rockwool batts, well-sealed vapor barrier.
DEAR POLE BARN GURU: In your blog you state that hip roof style the strongest against high winds. as I live in tornado alley wind and snow drifting are concerns of mine and would like my building design to be highly resistant to these forces. Why can I not find examples of this roof style on your web site? Is the gambrel style the closest you come to this design? CARY in RAYMOND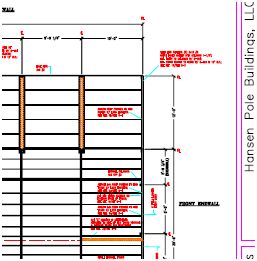 DEAR CARY: Very few clients have been willing to make an extra investment into full hip roofs, explaining why our website has no photos of them (we do rely upon our clients to provide photos). We can engineer traditional (and most cost effective) gable roof designs with wind speeds in excess of 200 mph. Our Building Designers can incrementally adjust design wind speeds to allow you to make decisions to best meet your concerns and budget.
While most roof truss manufacturers meet Code requirements for unbalanced (drift) snow loads, we are one of few (if not only) building providers who also design roof purlins appropriately to resist these same loads. This typically results in purlins closest to ridge to be either more closely spaced and/or larger in dimensions.
DEAR POLE BARN GURU: We purchased property in north central Tennessee and are planning a post frame barn for a RV and SUV storage and then later adding a post frame home as our forever home. Building site has about a 5 – 10 degree slope. Can you recommend some reading material, books, articles, how-to's that I can learn and start making some educated research and decisions? thanks. JEFFREY in PRAIRIEVILLE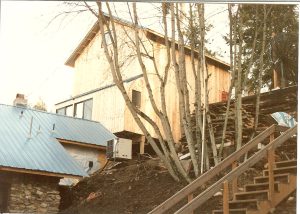 DEAR JEFFREY: A plethora of options are available for sloped sites. They can be excavated to create a "walk-out" or "daylight" situation. I was faced with this situation on one of my personal buildings (albeit with a more extreme slope): https://www.hansenpolebuildings.com/2019/05/solving-massive-pole-building-grade-changes/
Sites can also be built up: https://www.hansenpolebuildings.com/2020/01/supporting-fill-when-considerable-grade-change-exists/
And there is always an option of "stilts" https://www.hansenpolebuildings.com/2020/03/stilt-home-barndominium/
For research, a great source of information is always to navigate to www.HansenPoleBuildings.com, go to SEARCH in upper right corner, type in whatever topic you are looking for information on (e.g. BARNDOMINIUM) and hit ENTER. Over 2000 articles are available, covering a broad myriad of subject matter.
Whatever route you do ultimately pick, fully engineered post frame is likely to be your most cost effective and energy efficient structural design solution.