Reader JASON in WINDSOR writes:
"What are ways to avoid a stone base for slab to protrude under grade board using a post in the ground or pier with wet set brackets? We want grass to grow right up to the building's base rather than stone around the perimeter or stone flower beds. I don't like the idea of moist soil on treated grade board. Also have questions in regards to fascia trim provided by Hansen's kit. Tried to ask the sales rep and he couldn't answer. With packed is the fascia trim two piece application? Meaning one that covers soffit material on bottom of fascia board and one that overlaps bottom piece acting as drip edge. In Kevin Hart's build and kit review video he claims Hansen only provides one piece and it goes on after roof metal is on leaving wood exposed. I'm thinking he's missing a piece or step. Lastly the infamous questions of spray foam on roof. Tyvek or straight to metal? Thanks in advance."

Mike the Pole Barn Guru says:

For those reading along at home, you may want to grab a tub of popcorn and watch Kevin and Whitney Hart's video review: www.youtube.com/watch?v=sYGF1YY_yZQ

There are several ways to avoid having your slab's stone base from coming out from beneath your grade board (aka splash plank). If this building is to be heated or cooled, you are in Climate Zone 4. 2021 International Energy Conservation Code (IECC) requires slab perimeter insulation for climate zones 3 and higher. This can be achieved by use of rigid board EPS (expanded polystyrene) R-10 insulation (and keep your stone where it belongs). Inside of your splash plank attach insulation boards so the top is 3-1/2″ above the bottom of the splash plank. You can then use this to screed your slab from. Climate zones greater than 3 require this to be four feet in depth, however you can go two feet deep, then out horizontally following https://www.huduser.gov/publications/pdf/fpsfguide.pdf

Grade boards (splash planks) are pressure preservative treated to UC-4A requirements and should not experience premature decay issues when in contact with moist soil. We can provide Plasti-skirts to cover them, keeping soil away entirely. https://hansenpolebuildings.com/2017/08/plasti-skirt/.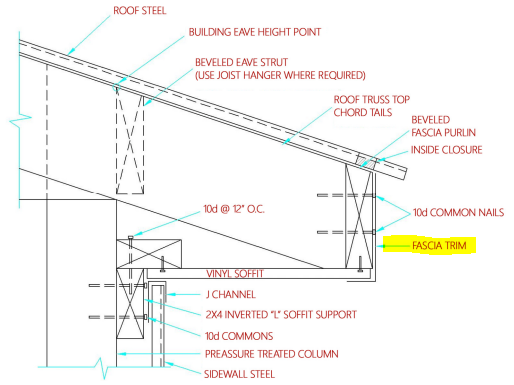 On fascia trims, we've used a plethora of different variations before settling on our current model. We do use a one piece fascia L trim, sized so it entirely completely covers the fascia board, there is no exposed wood. With properly placed inside closure strips at the extreme downhill edge of fascia, we have never experienced water getting behind fascia L trim. We did try a shorter height L fascia trim, with an eave trim and found the angle of eave trims caused drip edge of eave trim away from fascia trim. When screws were placed thru eave trim to prevent this – eave trims puckered out away from fascia trim between screws.

Closed cell spray foam is best applied directly to roof or wall steel. https://hansenpolebuildings.com/2020/04/spray-foam-insulation-3/

Please reach out to me any time with questions.