This week the Pole Barn Guru answers reader questions about where we ship, whether or not trying to raise pre-assembled walls is a good idea, and the use of double or single trusses when applying drywall.
DEAR POLE BARN GURU: Where do you guys ship? Nationwide? SUZANNE in BROOKSVILLE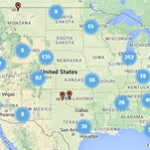 DEAR SUZANNE: Hansen Pole Buildings is America's leader in providing fully engineered, 100% custom designed, post frame building and barndominium kits, with multiple buildings in all 50 states. Your deliveries come from one or more of our thousands of shipping locations across the country (minimizing delivery costs) – so chances are excellent we are 'close' to you (as well as supporting your local economy)!
DEAR POLE BARN GURU: Hi. I love your blog. Planning a 30x60x12 pole barn for workshop and RV storage. A 20 year framer friend is planning to help with (do most of ) the building. He suggested partially assembling walls (3 poles/30' ) on the ground, then raising to vertical, lowering into holes with already poured footers, then proceeding to brace/collar/backfill/girt. In my extensive research on your blog and the rest of the internet, I have not seen this technique mentioned. Possible? Or bad idea? Would greatly appreciate your thoughts. TIM in BUENA VISTA
DEAR TIM: Thank you for your kind words, they are greatly appreciated.
While what your framer friend proposes is possible, it is unlikely to be easier, practical, or yield a better result. In order to work, poured footers would need to be all at exactly same depth below grade and top of footing perfectly level. Any variation from this would throw off your partially assembled wall. Even if exact depth is to be thrown out and up or down was to be compensated by shooting depths with a transit and adjusting splash plank location accordingly, it would still be reliant upon tops of footings roughly three feet in ground being level.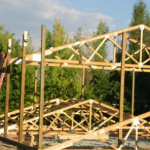 Even should all these manipulations be done successfully, it would result in having to utilize some significant lifting equipment to raise trusses, as opposed to being able entire bays straight up columns with truss winch boxes, as pre-installed wall girts would preclude this. https://www.hansenpolebuildings.com/2019/11/winch-boxes-episode-v/
My encouragement would be to continue tried and true assembly methods as outlined in our Construction Manual.
DEAR POLE BARN GURU: Do I need double trusses if a single truss is manufactured to handle the weight of both the roof and inside ceiling?
I'm looking to get some trusses ordered for a 40×60 pole barn but am having a hard time with the bottom chord dead load as I plan on hanging sheetrock. The prebuilt trusses available are only rated at 1psf on the bottom chord, but by doubling them would I be able to hang sheetrock? If not, I'll need custom ordered trusses, but those are rated for the full weight and I'm not sure if I still need to double them at that point.
Thanks REID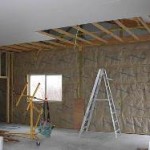 DEAR REID: While you do not necessarily "need" double trusses, there are some structural advantages to double trusses and they typically require far less bracing (read more about double trusses here: https://www.hansenpolebuildings.com/2018/09/true-double-trusses/).
Whether using a single or double truss system, you will need to order custom trusses rated specifically to carry weight of sheetrock – most usually with a 10 psf (pounds per square foot) bottom chord dead load.