This Monday the Pole Barn Guru answers reader questions about building a pole barn on uneven ground, if spray foam adds the greatest strength, and post spacing for a roof only porch.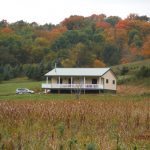 DEAR POLE BARN GURU: We were potentially looking to build. We were investigating our options and I came across pole barns. My potential issue is the land I would be potentially building on. Its on a hillside and not exactly flat. Is this an issue with pole barns? As most of the photos of homes are on flat ground. LESLEY in HAZARD
DEAR LESLEY: Fully engineered post frame (pole barn) buildings can be adapted to fit most any ground surface – from pancake flat to steeply sloped. Many design solutions are possible: cutting into hillside (will require a retaining wall outside of building perimeter or a foundation of concrete, block, ICFs, or pressure preservative treated wood); a combination of cutting and filling; filling to bring site up to highest grade (this is most common and minimize possible affects of exterior surface water infiltration) or as a stilt house.
Here is how I personally solved 12 feet of grade change for my own shop/house: https://www.hansenpolebuildings.com/2012/02/grade-change/
DEAR POLE BARN GURU: What would give pole barn the greatest strength- closed cell exterior walls or under roof?
Due to cost would closed cell under metal roof and open cell on all walls provide much additional structural support?
Would close cell all but price prohibitive so looking at next best option.
CAM in DANVILLE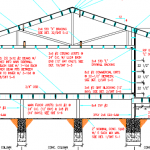 DEAR CAM: In order to insure your post frame (pole barn) building has its greatest structural integrity, it should be fully engineered (not just trusses) to meet or exceed Code mandated design wind speeds and Exposure for your site. While closed cell spray foam insulation will make any surface it is directly applied to more rigid, I would not rely upon it as a structural solution.
Your site is located in Climate zone 5A. 2018 IECC (International Energy Conservation Code) requirements for residential energy efficiency specific R-49 for ceilings, R-20 for walls. For cost effectiveness you could do a Weather Resistant Barrier in your walls between framing and steel siding, then fill balance of wall cavity with kraft faced fiberglass R-21 batts. For your roof, order trusses with 18 inch energy heels designed to support a ceiling and blow in 16 inches of fiberglass on top of your ceiling. Control condensation with a well-sealed Reflective Radiant Barrier (least expensive for materials but more work) or an Integral Condensation Control applied directly to roof steel when roll formed (slightly more for materials, but easily installed). Provide adequate ventilation with intakes through vented sidewall soffits and exhaust at ridge.
DEAR POLE BARN GURU: Can I build a 24×24 gabled roof over my deck using only four posts? RON in TRUMANN
DEAR RON: It might be possible, but may not be practical as you are going to need to have 24′ long lumber for either purlins, or truss carriers. Chances of being able to acquire either, without purchasing full unit quantities, will be slim. We would typically recommend using 6 columns, spaced every 12′ along eave sides.