Today the Pole Barn Guru tackles reader questions about the best method of insulating a building with no plans for a ceiling, planning a pole barn house, and adding heat to a completed post frame building.
DEAR POLE BARN GURU: I am insulating my 30×50 pole barn that is wrapped with Tyvek outside the purlins and I will use faced batt insulation on the 10ft walls. I will have it heated in the winter with the gable vents and cupola closed when working, but will not cool it in summer months. My question is what is the best method to insulate the roof as I don't plan to add a ceiling? Currently, there is a radiant barrier on top of the roof purlins directly below the metal, and the only venting is the cupola and two gable vents. ERIK in FESTUS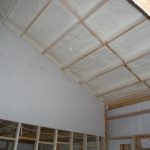 DEAR ERIK: Without a ceiling I would have recommended two inches of closed cell spray foam applied directly to your roof steel – except you have a radiant reflective barrier in place (not a best thing to spray foam to). This method also means it would be nice and toasty between your trusses, but not so much in your working area.
Provided your roof trusses are capable of supporting weight of a steel liner panel ceiling, I would encourage you to consider it as an option, then blow fiberglass insulation in above liner panels. Alternatively, you could use lathe, wire mesh, or other means across bottom of trusses and place unfaced batt insulation on top.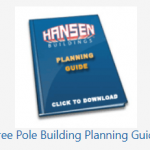 DEAR POLE BARN GURU: I would like to know about building a pole barn house. 3 bed 1.5 to 2 bathroom. If I order from you do I build it of you? How much do they cost? DAVID in KALKASKA
DEAR DAVID: This article should get you started https://www.hansenpolebuildings.com/2021/02/a-shortlist-for-smooth-barndominium-sailing/
DEAR POLE BARN GURU: Heating an unvented barn? I have a 52×70 Hansen pole barn. I have decided I would like to heat the space. I have sealed the concrete and have spray foamed the walls with 2.5″ closed cell and blocked the soffit vents while doing this. I will be using a combo of a waste oil furnace and a wood stove to heat the space. My question is can I block off the gable vents instead of putting in a ceiling? Will I have moisture issues if I do this? I did use the foil insulation between the roof sheeting and the purlins that came with the package. Thanks. MARSHALL in CAMANO ISLAND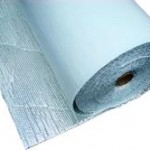 DEAR MARSHALL: Please keep in mind the Reflective Radiant Barrier under your roof steel is a thermal break designed to control condensation from occurring on underside of your roof steel, it is not insulation and has a R value of roughly one (R = 1). If you block off all vents, you may need to mechanically dehumidify your space in order to reduce moisture inside. Alternatively, should you install a ceiling and insulate above it, you would need to appropriately vent dead attic space to prevent roof system mold and mildew.