Where Have You Gone, Joe DiMaggio?
From the third verse chorus of Simon & Garfunkel's 1968 "Mrs. Robison" from "The Graduate" album:

"Where have you gone, Joe DiMaggio
A nation turns its lonely eyes to you
Woo, woo, woo
What's that you say, Mrs. Robinson
Joltin' Joe has left and gone away"
"Where have you gone, Joe DiMaggio?" — the line in Simon and Garfunkel's 1968 No. 1 hit "Mrs. Robinson" — annoyed the Yankee legend until he understood it.
Paul Simon, a Yankee superfan, told Fran Healy for MSG's "The Game 365" that the line in the song came to him out of nowhere and that he never expected he would have to explain its meaning to DiMaggio himself.
"I happened to be in a restaurant and there he was," recalls Simon. "I gathered up my nerve to go over and introduce myself and say, 'Hi, I'm the guy that wrote "Mrs. Robinson," ' and he said 'Yeah, sit down . . . why'd you say that? I'm here, everyone knows I'm here.' I said, 'I don't mean it that way — I mean, where are these great heroes now?' He was flattered once he understood that it was meant to be flattering."
When Simon met Mickey Mantle on "The Cavett Show," the Mick asked him why he didn't use his name instead of DiMaggio's. "Wrong amount of syllables," Simon told the Yankee star.
Simon continues: "Can you imagine, just the irony of it, I write this line, I don't know where it comes from, about a ballplayer who I know is really famous but he's not my favorite guy — and I end up, number one, writing one of the main obituaries . . . and then singing the song in centerfield at Yankee Stadium. I mean, our attachment was so powerful because of that song."

My loyal long-time readers have probably noticed my articles are no longer appearing on Tuesdays and Thursdays. Please let me reassure you – I have not gone away. And, I am far from having a shortage of future topics to opine upon. You will continue to see my "Ask the Pole Barn Guru" columns every Monday, where I answer three construction questions from readers. Every Wednesday and Friday there will be articles on post frame construction.

When possible, I will be doing my 2 p.m. Central time Wednesday Facebook Live "Ask the Pole Barn Guru" sessions – so be sure to turn in. I will also be continuing with my podcasts, frequently featuring guests from throughout our fascinating construction industry.

Again – I have not gone away.

So (you may ask) what are you doing with all of your spare time, Mr. Pole Barn Guru?

As amazing as it may sound, I do have a life beyond post frame buildings.

……..we will resume once you have recovered……

Most weekends from March through October I can be found with my 1950 Chevrolet 3100 ½ ton pickup at classic car shows across America. Last weekend we were at World of Wheels in Omaha.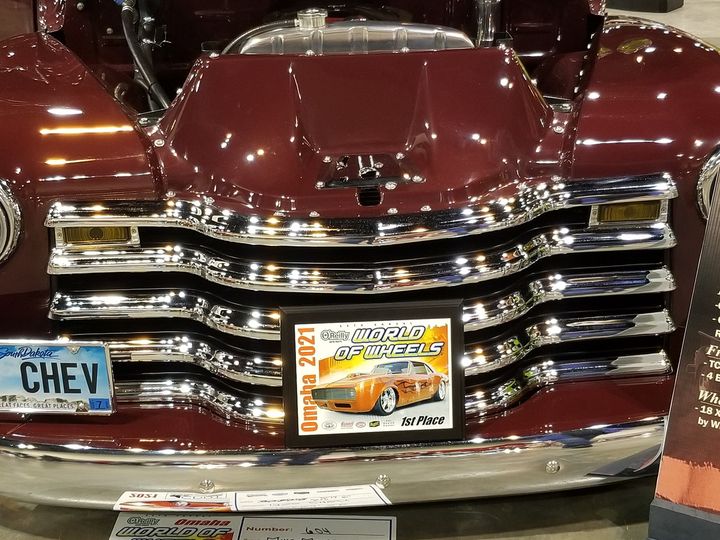 Yes, I gave my truck similar detail attention as I do post frame buildings.

For those of you who are curious, this truck was manufactured in Oakland, California in July 1950. I acquired it from its second owner 45 years ago for $150, with its best features being it would start and run! I brought my first daughter, Annie, home from being born in this truck in May 1976 – so it has great sentimental value to me. My younger brother (and only sibling) Mark did much of this current restoration version's work and it was completed in August 2019.

Hopefully I will continue to be writing articles and attending car shows for many years to come! If you see me at a show, please stop by and say hello.