Continuing the week with more Pole Barn Guru, Mike discusses spacing of framing for wall steel, how to prepare a sloped build site, and if Hansen can provide engineering for slab on grade in Colorado.
DEAR POLE BARN GURU: If you have 2×6's for walls in pole building that are spaced 16 inches apart, and want to put metal siding up, would I use like a wood girts every 2 feet apart in order to hang the metal siding up and down? JOSEPH
DEAR JOSEPH: I will read between lines and guess you have built stud walls between building columns. If this is your situation then you will need to have horizontal girts added in order to attach wall steel vertically. You should refer to your engineered building plans for size, spacing and attachment of these girts, as your engineer is most likely counting on your steel skin to provide needed wall diaphragm strength.
DEAR POLE BARN GURU: The area I want to put a pole barn has a severe slope of 6′ from one end to the other. Should I excavate this ground to make it level or build a masonry wall on low end to bring level? If I excavate I'm concerned about moisture getting into building from the high end. If I build a wall, I'm concerned about the pressure on the wall that could eventually fail or the back fill settling under the concrete floor causing cracks. Thanks so much for your help. DAN in EDDYVILLE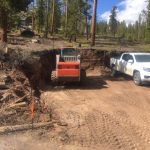 DEAR DAN: Well you have lots of possibilities. Given what you have provided, I would be inclined to cut roughly four feet from your high side (making your cut back another eight to 10 feet from your building) and then fill on low side, with a retaining wall eight to 10 feet beyond your building. This way you can slope grade away from building in both directions. Walls will be far enough away from building to not affect it. If you have clay in your soil, make sure to remove at least top 18-24 inches where building will be located and replace it with good, properly compacted fill.
DEAR POLE BARN GURU: Does your company handle all the engineering required for an interior monolithic slab? We are very interested in a pole barn home (about 1300 SQ ft) but are running into a lot of issues with the interior slab. We will be building in Fremont County, CO at 9400' elevation. Frost heave is a huge concern. JEFF in FREMONT County
DEAR JEFF: We would need to have an engineered soil's report as well as to know your intentions for heating (always heated or not always heated). With this information we would provide engineering for your slab on grade.