This week the Pole Barn Guru answers questions about repairing or replacing a wind damaged structure with help of a Registered Design Professional, the use if Screw Piles instead of embedded columns, and an inquiry about a post frame structure for home and shop built on "stilts."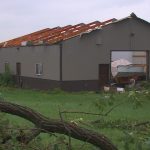 DEAR POLE BARN GURU: I own a pole barn that was constructed in appx 2003. the dimensions are 40 x 50 x 15 with 3 12×12 roll-up doors and 2 3′ entry doors and 1 6 double entry door. The building had 1 40 20 ICM awnings down one side and another ICM metal awning across the rear. Our area sustained 130 mph documented wind from Hurricane Laura w/ gusts to 150. This is the second 100 mph Hurricane the building has gone through. The latter took 1/2 the roof and all of the awnings off of it. Some of the remaining trusses appear to be compromised. The insurance carrier is sending an engineer to determine if the building can be salvaged or needs to be replaced. At this point, I feel it needs to be replaced, due to the fact that the remaining structure has to be compromised to some degree.
Your thoughts please. STEPHEN in SULPHUR
DEAR STEPHEN: Without actually reading your insurance policy – in most cases your insurance company has every right to repair or replace at their discretion. If they opt for repair, you should have them prepare plans for repair sealed by a Registered Professional Engineer. Those plans should reflect Vult design wind speeds of at least your documented 150 mph, as well as being for a correct wind exposure for your site. For reading on wind exposure: https://www.hansenpolebuildings.com/2012/03/wind-exposure-confusion/
DEAR POLE BARN GURU: I am interesting in building a pole barn and using screw piles rather than putting the poles into concrete footings. I was looking at these, https://www.technometalpost.com/en-US/ but am open to others. What are your thoughts on using screw piles? Do any changes to the design of the building need to be made? Have you had any other customers use screw piles in the construction? DAN in TEWKSBURY
DEAR DAN: Very timely asked question as we are currently having discussions with a provider of screw piles. Weak link in this previously has always been how to attach columns to screw piles, however this particular provider may have a solution to this. While this would entirely take away needs for concrete in holes, when all is said and done it is likely to add around $200 per column location in investment. Installation does take special equipment attachment for a skid loader (aka Bobcat). Building engineering will be same as for using wet set brackets embedded in piers.
DEAR POLE BARN GURU: I live in Louisiana and am very interested in this style of building for my home and shop. I am curious about how difficult it is to put these on stilts, how much more it adds to the price and what might be some of the difficulties with doing that. I want to make sure I have the main living area out of the flood potential. DANIEL in GONZALEZ
DEAR DANIEL: Post frame buildings lend themselves very well towards being stilt houses. You will end up with larger columns, embedded deeper in your ground, otherwise construction practices will remain same as any other engineered post frame building. Pricing will depend upon design wind speed and wind exposure at your site, height of floor above grade and actual flood potential information for your particular site. A Hansen Pole Buildings' Designer can assist you further at 1.866.200.9657.