Loyal reader RUSS in PIPERSVILLE writes:

"We are in the process of having our floor plans and elevations done by Greg Hale. A pleasure to work with by the way. I'm wondering if you have any experience with pole frame builders in the east shore area of Maryland? We really want to purchase our building package from your company but it seems like all of the builders listed around that area are complete build companies only. None that I have seen offer stamped engineered drawings for the buildings and don't want to use outside materials. I fear that I may not be able to find a builder that embraces the "Hansen" approach to building. Any help would be appreciated."

For those of you who are unfamiliar with it, Hansen Pole Buildings offers an affordable (or even free) service to provide you with floor plans and building elevations crafted totally to best meet your wants and needs. For more information on this service, please visit: http://www.hansenpolebuildings.com/post-frame-floor-plans/?fbclid=IwAR2ta5IFSxrltv5eAyBVmg-JUsoPfy9hbWtP86svOTPfG1q5pGmfhA7yd5Q

Glad you are enjoying your experience with Greg, it has proven to be an extremely popular service for our clients.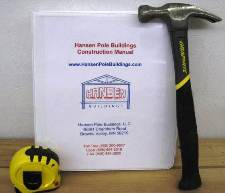 Our buildings are designed for average physically capable person(s) who can and will read instructions to successfully construct their own beautiful buildings (and many of our clients do DIY). Our buildings come with full 24" x 36" blueprints detailing locations and attachment of every piece, a 500 page fully illustrated step-by-step installation manual, as well as unlimited technical support from people who have actually built post frame buildings. We have found those who DIY almost universally end up with a better finished building than any contractor will build for them (because you will actually follow plans and read directions, and not take 'shortcuts' in an attempt to squeeze out a few extra dollars of profit). We've even had couples in their 80s assemble our buildings!

For those without time or inclination, we have an extensive independent Builder Network covering the contiguous 48 states. Your Hansen Pole Buildings' Designer can assist you in getting erection labor pricing as well as introducing you to potential builders.