Post Frame Shouse Column Options – Risk vs. Reward

Loyal readers will recall a recent post involving GREG in KENTWOOD (https://www.hansenpolebuildings.com/2020/09/dont-want-pressure-treated-columns-in-the-ground/).

Our discussion continues and I share below:

"Mike,
Thanks for the quick response.   
If I was a sane man, not sure I am, if properly pressure treated lumber will last a few generations, why would I not go with that?   
The time to DIY yourself wet set brackets could add a few weeks to the projects. ( I probably have the time.)
Using a Perms Precast Columns which are $152 each will be costly with probably needing 50 to 60 posts. (Adds about $10k to project)
I might be able to be talked into using pressure treated poles. 
Does the plastic help or does it add more risk of trapping moisture or other?
I will cost out each method, on a little "nerd chart" to determine what risk and reward I can accept.
Do you think your source for the pressure treated poles is better and more consistent than say a Menards or other source a non-builder would get supplies?
For a (2) story would you use laminated posts or solid?
Would you use only treated on the first 8' to prevent shrinkage and warping at a (2) story height?
This will hopefully be all my questions prior to submitting a plan. 
Thanks Mike!"
Greg is probably going to be very satisfied with his end result – he is reading, asking questions and learning. Hours spent in preparation can save tens of thousands of dollars later.
I live in a million dollar shouse (shop/house) with roughly 8000 square feet finished. It has glu-laminated columns with pressure treated bases, embedded in the ground. I could easily have chosen any alternative solution, as cost was not a deciding factor.

Wet set brackets are probably only marginally more time consuming, however to minimize concrete needed for piers, you will (or should) be using insulated forms. When all is said and done plan upon roughly $100 per column for budget.

Precast columns have not just column investment, they are also heavy to handle onsite and do require a concrete footing or bottom collar to prevent settling.

Plastic sleeves might be effective, however I felt they were redundant given modern pressure treating technologies.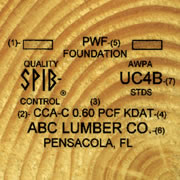 In most cases, it is impossible to walk into a lumberyard or big box store and get UC-4B treated lumber, it most usually has to be special ordered in. Our providers know, in advance, of this being our expectation (not to mention minimum requirement by Building Codes).

I would go with true glu-laminated columns (I did on my own building). They will be lighter, straighter and stronger than solid sawn columns and not have challenges as do nailed up columns. Lower portions are typically treated so laminations are a minimum of six feet of treatment (usually a 6′, 8′ and 10′ member are bottom treated segments). Pressure treating does not prevent shrinkage or warping – shrinkage is limited due to this lumber being kiln dried after treating in order to get moisture content low enough for proper glue adhesion. Warping is a by-product of laminations being oriented so lumber grain is all one direction and is a rare occurrence with glulams.

Ask as many questions as you need to feel confident in your decisions.

Mike the Pole Barn Guru