This week the Pole Barn Guru answers questions about use of dry-set brackets to existing slab, spray foam distorting metal, and a problem with drip when temperature is just right.
DEAR POLE BARN GURU: How thick does the edge of concrete need to be to support a pole barn if using the bolt on top of existing slab? CHRIS
DEAR CHRIS: Our independent third party engineers have determined brackets dry mounted to existing concrete slabs are not a good structural solution and will no longer certify such connections. We would recommend either saw cutting holes in your slab to use either embedded or wet set bracket mounted columns, or to place columns around your slab's perimeter.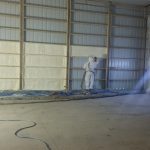 DEAR POLE BARN GURU: Why does the spray foam distort the metal? LARRY in KALISPELL
DEAR LARRY: Properly installed closed cell spray foam insulation should not distort either roof or wall steel. My lovely bride and I used it when we added an elevator shaft on the rear endwall of our shouse and it was used to insulate a recent approximately 3000 square foot addition to Hansen Pole Buildings' warehouse. Both were done with no noticeable steel deflection. Here is some further reading on this subject https://www.hansenpolebuildings.com/2020/04/spray-foam-insulation-3/.
DEAR POLE BARN GURU: We have a moisture problem in our 36×45 pole barn when the weather is right it drips when the sun warms it up. I understand I need more ventilation. Along the top center ridge there is formed foam gasketing like you have talked about. Some of it is falling out. Can I remove that to improve ventilation or is that there to stop rain or snow from coming in? Really appreciate many of the tips you have on your site. RON in MAZOMANIE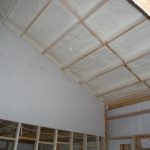 DEAR RON: I will suspect your dripping issue is due to there being no thermal break between your building's roof framing and roof steel. If this is your circumstance, your only real solution is to have two inches of closed cell spray foam applied to inside of your roofing. While adding ventilation may remediate some of your challenge, there is still going to be some degree of warm moist air trapped inside.
In order to adequately ventilate, you will need to have both an air intake and an exhaust. You could remove your ridge cap and replace your present formed ridge closures with a similar vented material (vented closures). For air intakes, if your building does not have vented sidewall overhangs, you could add gable vents at each end.