Truss Spacing and Design for Sheathed Post Frame Roofs

In most instances, there is not a structural or Code requirement for solid roof sheathing (plywood or OSB – Oriented Strand Board) to be placed below through screwed roof steel for post frame buildings. In some cases, clients look upon this as being an easier installation when doing a DIY build. For others, it is about providing a thermal break to eliminate underside of roof steel condensation. And a few look towards minimization of potential hail damage.

Reader CARROLL in PORTER writes:

" Wanting to build Pole Barn that is about 35'x80'x12′ My question is, if I want to install 1/2″ decking plywood or OSB decking with underlayment and metal panels how far apart will I need the trusses to be center to center or what kind of truss design will I need? I guess it could be a 4/12 or 5/12 pitch if that helps any."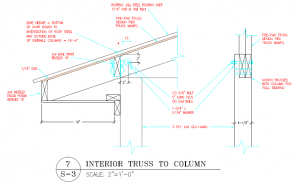 Provided you have adequate available space, you may want to tweak your footprint dimensions in order to optimize your return for your investment. As steel comes in three foot widths and lumber in two foot lengths, your most cost effective dimensions of length and width will be multiples of six feet. In your instance, I would recommend 36 feet wide and 84 feet long.

With this said, I would place a single truss on each endwall and a two ply truss every 12 feet to align with your sidewall columns. Purlins can be placed on edge, using engineered steel joist hangers, between each set of trusses and spaced every two feet to support your sheathing. Whether plywood or OSB, panels are best installed running up roof from eave to ridge (perpendicular to purlins, parallel with truss spans). If not using synthetic underlayment, you should use 30# asphalt impregnated paper (roofing felt). With Hansen Pole Buildings, we purposefully design all trusses spanning 40 feet or less with a greater than minimum requirement top chord dead load – in order to accommodate those who want to install solid sheathing.