Hi, I Should Be an Engineer. Can You Tell Me What I Left Out?
Seemingly every Spring I receive an email similar to this one from JOHN in UNION DALE, who it sadly appears has not done much (if any) homework in reading my articles.
JOHN writes:

" Hi, I have been doing a couple of months homework on making my pole barn, my plan is a 30×50. Right now my plan is using (16) 6x6x16 pole about 52 inches in the ground, the spacing between posts will be 10 ft, now I have not decided on a concrete cookie before the setting the post or gravel first has a drainage layer the set the pole and then use about 5 bags of concrete for uplift protection and the normal back fill, for the posts I got post protectors, so the wood is separated from the soil, my plan is to use double  2×12 for the top strapping with the posts notched at the top for added snow load, has far has the roof it will either be a 4/12 or 5/12 pitch my plan is using 2×6 rafters that I'm making on the ground and hoisting up by myself and they will be on 48 inch on center, my purlins are going to be 2x4s about 2ft apart and standard metal to finish it off, if you can can you please let me know if I left anything out, thanks ps I forgot to say the door opening on a non-load bearing wall will be a 12ft wide and 10ft tall, I'm thinking about putting a door  on a load bearing wall a 10ft, all doors are going to be sliding barn doors."


Mike the Pole Barn Guru Responds: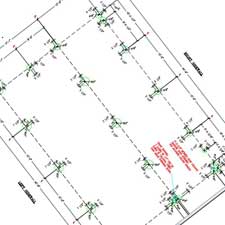 Well John, you have left out a crucial part. One no proper pole barn should be without. Plans designed and sealed by a Registered Professional Engineer specific to your building at your site. To build without them is, in my humble opinion, fool hardy and I cannot endorse your plan of attack or methods of construction without them. Outside of this – attempting to field construct your own roof trusses is not a good choice. Prefabricated trusses are truly a bargain, especially when considering risks involved should your home made trusses collapse injuring or worse killing you or a loved one. 
For last year's related article, please read: https://www.hansenpolebuildings.com/2019/05/self-designed-pole-buildings/
For extended reading on the misadventures of site built roof trusses: https://www.hansenpolebuildings.com/2018/12/site-built-roof-trusses/