How Not To Sheetrock Your Barndominium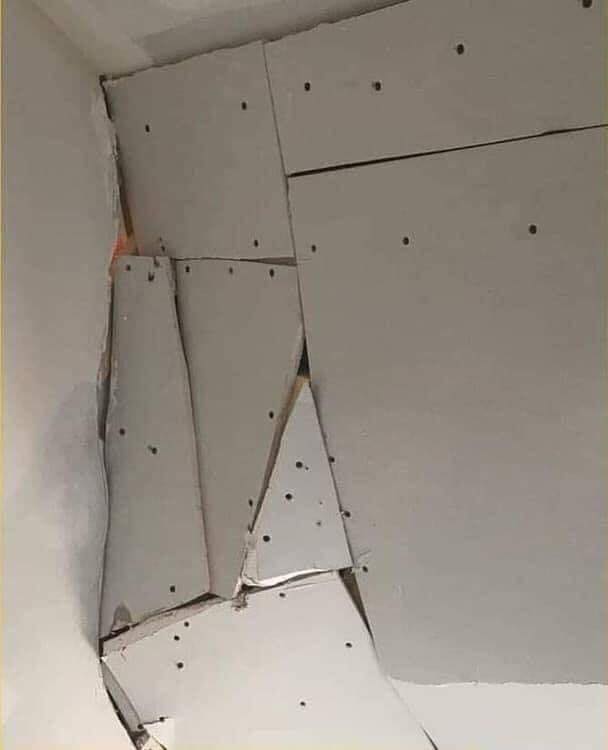 Gypsum wallboard (aka Sheetrock or drywall) is used as wall and ceiling covering of choice for nearly every barndominium, shouse (shop/house) or post frame home. It affords a plethora of advantages over other interior finishes – for many, it is about cost savings. For others it is fire protection or a desire for sound deadening.
For shop areas, I see too many (in my opinion) using steel liner panels as an interior finish – usually in a misguided belief they will be a less expensive solution. Rarely is this true and liner panels are not without their own issues, as I have expounded upon previously: https://www.hansenpolebuildings.com/2013/08/steel-liner-panels/
Drywall can be installed quickly. My first summer out of high school I worked for B & M Inland Wallboard as a laborer primarily doing taping and texturing.  My boss, Joe Borg, was several things – reasonably priced (material and labor for standard homes ran 50 cents per square foot of sheetrock – hung, taped and textured with 5/8" on ceilings and firewalls, ½" elsewhere), quick (his hanging crews would do 2000 square feet of rock per man, per day for a nickel a square foot) and a fanatic about quality.
Sheetrock back then (40 plus years ago) was even more of a bargain than today, roughly 1/3rd cost. Even then, I saw some jobs not far removed from what is pictured above! When I was Sales Manager for Coeur d'Alene Truss, we did a truss job for a contractor, Joe Michielli, directly across the street from a rival truss company's sales person. Following up, to see how everything went, Joe was busily and proudly hanging drywall. Little pieces of drywall – as Joe was bound and determined to not have any scraps larger than a foot square. I can't even fathom how he ever managed to tape and texture it!

(As a seven degrees of separation thing, in 2017 Hansen Pole Buildings provided a post frame building kit package in Laramie, Wyoming to Joe's son!)
There are methods of hanging, taping and texturing drywall to get a finished product my boss Joe Borg would have been proud of. And post frame buildings are perfect for this, as you can read here: https://www.hansenpolebuildings.com/2019/09/11-reasons-post-frame-commercial-girted-walls-are-best-for-drywall/.