Auntie Em, Auntie Em My Garage Has Lifted 
Well, it wasn't from a twister and this article has nothing actually to do with Auntie Em or actress Clara Blandick who played Auntie Em in 1939's film classic The Wizard of Oz. For trivia buffs, Blandick also played a part in 1937's original A Star Is Born.
Reader GEORGE in LAGRANGE might be wishing a twister had hit his garage, so insurance would pay for a replacement. George writes:
"Due to the freezing and thawing cycle my pole garage has lifted about 7 inches since it was built 12 years ago. You can now see the outside grass from inside the garage. And it has not lifted evenly so the garage is unlevel."
George's post frame garage has some challenges, none of them ones with an easy fix. How did his garage get this way? There are three possible major contributors to this garage's current situation. These would include:
Inadequate site preparation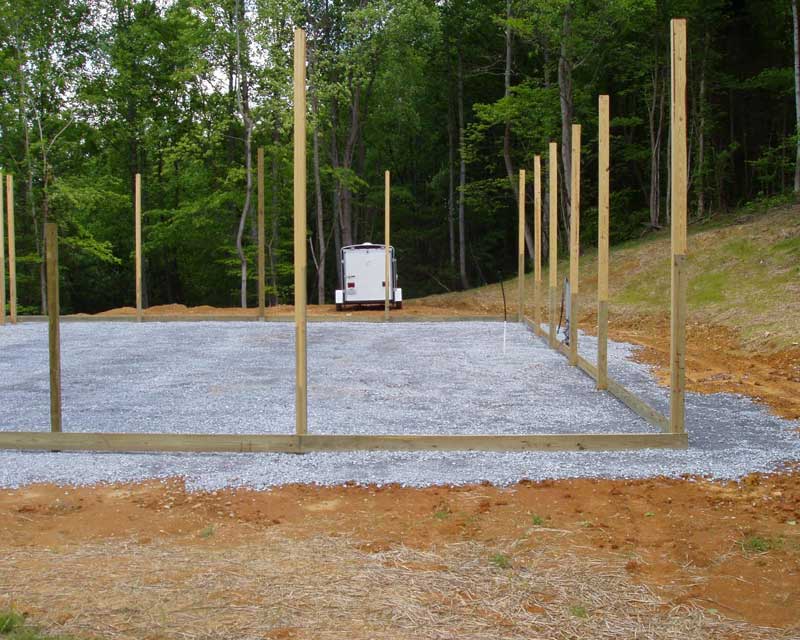 At a minimum, site preparation includes:
· Remove all sod and vegetation.
· For ideal site preparation, remove topsoil and stockpile for later use in finish grading. In frost prone areas, remove any clays or silty soil
from within future building "footprint".
· Replace subsoil removed from around building with granulated fill to help drain subsurface water from building.
· Distribute all fill, large debris free (no pit run), uniformly around site in layers no deeper than six inches.
· Compact each layer to a minimum 90% of a Modified Proctor Density before next layer is added. Usually, adequate compaction takes more than driving over fill with a dump truck, or
earth moving equipment.
For more details on proper site preparation please read: https://www.hansenpolebuildings.com/2011/11/site-preparation/
Column Depth
Bottom of column encasement needs to be below frost line. This is a no-brainer.
Water
Read more about what causes frost heaving here: http://www.hansenpolebuildings.com/2011/10/pole-building-structure-what-causes-frost-heaves/.
There is going to be no easy or inexpensive fix to George's situation. An investment into a geotechnical engineer who could provide a thorough site evaluation along with solutions might be money well spent.
Building could be brought back to level by excavating at each raised column to well below frost depth. Cut off columns at base of splash plank (while supporting building from falling), then remove embedded portion of column. Place an appropriately sized sonotube in excavation with top of tube at grade. Pour premix concrete into tube and place a wet set Sturdi Wall bracket – expertly placed to receive upper portion of column. https://www.hansenpolebuildings.com/2013/11/sonotube/
If all of this sounds daunting (it would be to me), a consideration could be demolition and start over from scratch.