Free Standing Hangar Door
Disclaimer: this is not a testimonial for this door, I have not personally used one, and to the best of my knowledge none of our clients has (although I could be wrong on this last part).
As readers of yesterday's column have learned, deflection can become an issue with openings for hangar doors (deflection of the member which supports the building and/or the hangar door across the opening). Well, the folks at Higher Power Hydraulic Doors® may have figured out a solution.
You can watch their video here:

Watch this Amazing Self Supporting Door video… from Higher Power Hydraulic Doors on Vimeo.
According to the manufacturer, these doors are completely self-supporting. There are no vertical or horizontal loads to stress your structure like conventional bi-fold, swing, and cable-lifted doors. Their patented cam and roller technology enables your door to ride smoothly, at an unbeaten open/close speed. They also engineered in the safety, security, ease of installation, and maintenance features you want.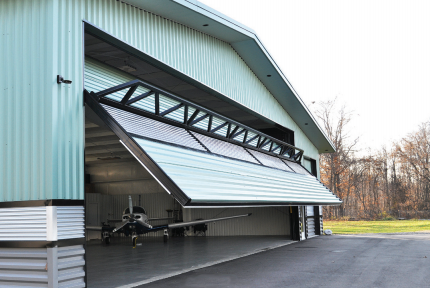 Many Hansen Pole Buildings' clients are D-I-Yers, who will be pleased to know the doors come with simple, easy-to-follow installation instructions. Door bolts together without special tools. Do it yourself and enjoy full factory-support and a five-year warranty. For those not so inclined, professional installation assistance is available from Higher Power Hydraulic Doors®.
The manufacturer claims once installed, this door is virtually maintenance free. It adapts to pole barn (post frame) wood frames with no additional header requirements, which makes me (and our engineers) very happy indeed. This also results in some cost savings to the building owner, at least on the building structure itself.
Optional windows or walk-in doors may be included, as well as a 12-volt backup system and (I like this one) remote controls!
Whether you are looking at a larger than practical overhead door sizes for a hangar or large equipment it is possible a Higher Power Hydraulic Door® could be in your future as a design solution.