Narrowmindedness drives me literally crazy. Post frame (pole barn) buildings can look like absolutely any other building. The only differences being the structural system – post frame and saving a fair amount of hard earned money.
From the Marion, Indiana Chronicle Tribune February 21, 2018:
"The Marion City Council will review a rezoning request for 1427 W. 10th St. for a third time before voting.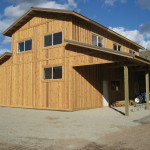 Fireworks store owner Ron Vielee made the request, saying he wants to expand his reach from his current business at 1421 to include a new Halloween store and parking lot in the properties west of the his current store. The council voted to move the request to a third reading following a discussion at Tuesday's meeting.
The request to rezone would classify the property as "General Business," it is currently zoned as a residential. Vielee said he intends to purchase both this property and the adjacent property at 1423 W. 10th St. The 1423 property has already been rezoned, according to Sam Ramsey, advisory plan director.
A burnt house occupies the location at 1423 W. 10th St. Vielee said he will tear it down, once the sale goes through.
Council member Jim Brunner said he was appreciative of Vielee's effort to tear down the vacant structure.
Vielee said he intends to make an offer to the owner of the 1427 property. In all, including demolition, purchasing the properties and building a new store, Vielee said he will invest nearly $300,000 into the community.
"The whole neighborhood is going to look better, for one," he said. "It's going to be nice. It's not like I'm going to put up a pole barn."
Vielee answered a number of questions from the council on his intentions and his businesses. The business owner said the Halloween store, much like fireworks store, would be open for about a month out of the year.
Council member Deb Cain noted when the fireworks store went in, the council granted a tax abatement. However, Cain said the business plan was for the store to be open year-round, selling Thanksgiving and Christmas decorations.
Vielee said that was true and also gave permission for the council to consider doing away with the tax abatement.
"If you want to just discard it and charge me full taxes, I'm fine with that," he said.
Council member Alan Miller asked Ramsey what sort of businesses could take occupancy at the location if rezoned and Vielee's business did not last.
"Pretty much anything you see up and down the bypass," Ramsey said. "General Business is our broadest zoning districts in town."
This would include tobacco stores, liquor stores and convenience stores."
Considering new construction for virtually any sort of retail business? If you want a structure which is aesthetically pleasing, cost effective and goes up quickly, then post frame construction might just be your ticket to success. And yes, it may be called a "pole barn".