Reader JEREMY writes:
"Good Morning and Happy New Year!
We are currently in the process of building a house inside a pole barn, and have noticed condensation on the inside walls and roof when we heat it.  We do not have any vents installed yet, and would like to know if the condensation will stop after we get the walls/insulation/sheetrock put up and vents added to the attic.  We are very concerned about this issue, so any advice you can give will be greatly appreciated by our family J!
Here are a few details about our current building:
-No vents to the outside yet, but plan to install venting in the attic soon.
-Regular R-panel metal roof and walls installed on wood runners hanging on treated wood posts.
-Concrete slab floor that has been poured for about 2 years
-Bubble wrap insulation between metal outside and wood runners-not sure of r-value or details and it seems to be sealed well
-When heating we are using an old propane central heating unit, but did not have exhaust on the heater ran to the outside so thinking that could contribute to the condensation
-also use a wood stove to supplement heat when we are out in the building working
Let me know what you think when you have time, and thank you!"
Jeremy ~
Mike the Pole Barn Guru 
My first guess is there is not a well sealed vapor barrier under your concrete slab. if not, things which will help – make sure ground around your building is sloped away at at least a 5% slope for 10 feet or more. If you do not have gutters, get them. Have downspouts discharge at least 10 feet away from the building. If excess water is still present, it may be necessary to install drain tiles around the perimeter of your building.
If you have not insulated the perimeter of the slab, do so. Follow the guide for Frost-Protected Shallow Foundations (https://www.hansenpolebuildings.com/2016/11/frost-protected-shallow-foundations/).
Seal the surface of the concrete slab.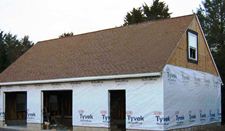 Take off the steel siding, remove the reflective radiant barrier from the walls and install a quality building wrap (like Tyvek), then put the siding back on. The barrier is keeping moisture in your building, whereas a building wrap allows moisture to exit. Completely fill the wall cavities with insulation. Place a well sealed vapor barrier between framing and gypsum wallboard to be installed on the walls. Do not place a vapor barrier between the ceiling drywall and the roof framing above.
Install fully vented soffit panels along the eave sides and a continuous ridge vent.