Builders Who Make No Upgrades in Twenty-Five Years.
Why?
We've Been Building This Way for 25 Years
In the event you happen to hear this from a pole builder – run away from them as quickly as possible.
Why?
Because every three years there is a new version of the Building Codes and often those new Codes come with changes in the way wind, snow and or seismic loads are applied to the building. New methods and materials seem to appear on the market so fast they make one's head spin. Technology moves at a breakneck speed and to be doing things exactly the same for 25 years means your proposed erector is pre-internet in thinking!!
COREY in BILLINGS writes:
"Good Morning,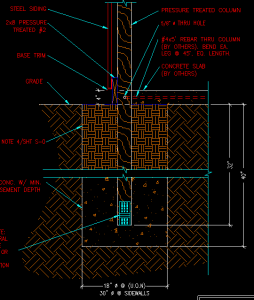 I was speaking to Rachel and she gave me your email to see if you might be able to answer a question for me. I hired complete a 50'x 80' x 12' pole barn here in Huntley, MT. The company showed up on the job yesterday and drilled the holes and started setting posts. Posts are 8' center. They set the corner posts and maybe 6 sidewall posts and 4 endwall posts. The other posts were placed in the drilled holes and left for completion today/tomorrow. When I inspected the posts that were placed but not set (no backfill) I noticed that there was no footing or no cleats attached to post base to prevent uplift. When I questioned the owner of the company what he was using for footings he stated nothing added just solid tamped. I immediately called him and questioned his reasoning and got the I have been building these like this for 25 years. My question is on average what is the post load in psi on the 50' x 80' x 12' pole barn with a 40# snow load? My soil has a bearing capacity of 2100 psi."
In my humble opinion, you need to stop them immediately. Just because they have been doing them this way for 25 years does not make it correct.
Mike the Pole Barn Guru Writes:
Assuming a 40# design roof snow load and minimal design dead loads (usually 3.3 psf top chord and 1 psf bottom chord) gives a total of 44.3 psf X 8′ on center X 50'/2 = 8860# downward If they are using 6×6 posts (5-1/2″ nominal) they are placing over 42,000 psf on the base of the column!!
Roughly 21 times the soil bearing capacity.
Each post should probably have a concrete pad 30 inches or so in diameter underneath and at least 6 (if not 8) inches thick.
If I were you, I'd be requiring the building contractor to submit engineer sealed plans for your building to you (even if you have to pay for the cost). Otherwise you are pretty well hung out to dry.